Entry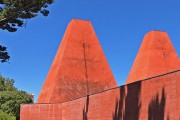 by Rebecca Firestone with Mark English AIA | Editorials
"The Paula Rego House is all about form. The mechanical systems are so integrated with the building that they're invisible."
Image: Mark English Architects
---
Mark English was telling me about the Portuguese architects Alvaro Siza and Eduardo Soto de Moura, whose works he visited on a recent architectural tour of Portugal. Siza and de Moura both share the same office building, and both have won separate Pritzker Prizes in architecture. This prize is given for distinguished careers rather than design competitions based on a single building.
"I was particularly struck with their attention to detailing," noted Mark English, who traveled to Portugal with a number of other architects. "Detailing is an area often neglected by other architects, and which we could all learn from."
Cities Visited
During their Portugal travels, Mark and his companions visited Lisbon, Cascais, Alcácer do Sal, Porto, Marco de Canavezes, Santo Tirso, and Chavez.

Portuguese National Character
"The infrastructure in Portugal is perfect," said Mark. "They have great bridges, freeways, tunnels, and are obsessed with transportation." Why? I wondered, thinking of our own national infrastructure challenges.
"The Portuguese people are proud," Mark replied. "They were a great sea power from very early on. They invented several new kinds of ships and kept it all secret. Originally they were after cod. Later, they were after trade, sailed the globe, and established a presence in Angola, India and Goa, and Brazil."
"Portuguese people are really into their architecture." So how would you describe them? I asked. Is there a national character? "They are sober, practical, artistic, historically competent in material arts and sciences. They are open, friendly and want to communicate."
Draped Concrete
The Portuguese National Pavilion by Alvaro Siza was done for a World's Fair and now serves as a gateway to the "new section" of Lisbon, Portugal. Its elegance and supreme simplicity rely on a cleverly executed catenary curve, basically the curve assumed by a flexible structure that is supported only on either end.
Red Chimneys
Eduardo Soto de Moura designed this history museum, the Casa das Histórias, Museu Paula Rego, located in Cascais, Portugal. The colored red concrete adds unbelievable drama, recalling a primitive desert rock formation contrasting with a shocking blue sky. The tapering tower mounds echo a common chimney shape found all over Portugal, a shape unique to Portugal – except for the squaring of the more usual rounded form.
The detailing includes built-in mechanical systems and lighting, which recede into the background rather than calling attention to themselves. "The Paula Rego House is all about form," says Mark. You have mech, but it's a system that's so integrated with the building that it's invisible." Not covered up… not hidden… not denied… more like a seamless, subliminal presence, not intruding into consciousness any more than we think about our own heartbeat most of the time.
This approach contrasts with a contemporary approach that seeks to expose, express, and celebrate the mechanical aspects of a building. "Exposing the guts", as if that were the main point of a building. One example of this is the Centre Georges Pompidou, also known as the Pompidou Center, opened in 1977.
Senior Home as Abstract Sculpture
When Mark told me the building with white blocks was a home for seniors, I gaped at him. I've never seen a senior home in the U.S. that looked quite so sculptural. This one is a serene and simple in form consisting of offset white blocks. Located in the city of Alcácer do Sal, near Lisbon, it's sometimes referred to in English as the House for Elderly People.
"The people living there liked it. They said so. When they saw that we were interested in the building, they went and found a resident who spoke English. They WANTED us to know!" This pattern was to repeat itself several more times throughout the trip: the locals were eager to share their culture and went out of their way to welcome and inform interested visitors.
The architects, Aires Mateus, have a style that is both monumental and mysterious, imbued with a sense of calm power. Aires Mateus is a team of Portuguese architects: Manuel Aires Mateus and Francisco Aires Mateus. Their web site could win a prize for elegance, minimalism, and perhaps also for utter lack of information – other than a contact page, it has a single self-playing slideshow with images of sculptural models, no photos of actual built projects, and no descriptive text at all. Silence sometimes speaks volumes.
ABAB Building Rhythm
Our next building is a high-rise by Eduardo Soto de Moura, the Burgo office tower in Porto, Portugal. Why did Mark like it? "There's an alternating proportion shown alternate building faces. On the shadier side, the windows are large and the exposed metallic beams are small. On the east and west faces, which are sunnier, the proportions are reversed. The windows are narrow slots, and the cladding is wider. It's like an A-B rhythm in poetic verse, where alternating lines rhyme with one another, and then it repeats."
Concert Hall VIP Room
The Casa de Música concert hall by Rem Koolhaas and OMA architects is located in Porto, Portugal. Mark managed to sneak past security and have a look around the inside. Mainly he wanted to talk about the VIP room at the very top, which has some interesting local references to historical Portuguese architecture and materials. "The room is covered in traditional Portuguese blue and white ceramic tile, called azulejo. It's interesting to see this in a Modern building. The tiles act to tie this building to its surroundings."
Train Station
Eduardo Soto de Moura designed several train stations for the city of Porto. Mark was intrigued by the detailing on the pillars, which are actually light wells. "It takes something that looks structural and makes it sculptural instead."
Nadir Afonso Foundation by Siza
The details inside the Nadir Afonso Foundation museum building by Alvaro Siza typify his approach. This building is located in Chaves, Portugal. Mark's observations: "Siza's detailing is consistent. Once he works out a detail, he uses it again and again. No point in re-inventing the wheel for every new building, or for the sake of cleverness."
"Portuguese Modernism emphasizes how you approach and enter space, how you move from room to room." More soffits, no recessed lights, reflected light rather than lights shining directly on the paintings. "Lighting designers sometimes over-design things. They need 12 different lighting systems."
Even things like the application of stone veneer to stairs and walls is consistent. On the stair example, all the stairs except for the bottom one have top piece layered to show the thickness of the veneer looking outwards. The bottom-most stair has it reversed. This is not a detail that any ordinary person would notice, except perhaps to wonder why that one stair was different.
Tea House by Siza
In city of Porto, Portugal, the Boa Nova Tea House was a house that was converted into a chef-sponsored restaurant.  Inside, Mark was struck by the detailing on the wood ceiling, as well as by the eaves outside.
Monastery Turned Museum
Alvaro Siza and Eduardo Soto de Moura collaborated on the repurposing of this former monastery into the Contemporary Sculpture Museum (MIEC) in Santo Tirso, Portugal. The mechanical systems and marble veneer details re-appear, in a slightly different form.  The wood floor areas are slightly raised up, and it's not apparent to a casual visitor what's really happening underneath there.
Fire Station
This fire station in Santo Tirso, Portugal, was designed by Alvaro Siza. Even a humble fire station is a source of pride to the crew. Here, as with the senior home, the locals went out of their way to find an English speaking firefighter to expound to the touring architects.
Abstract Church
The Church of Santa Maria, by Alvaro Siza, is located in the city of Marco de Canavezes, Portugal. "In detailing, the important thing is how he gets it right, how he turns the corner. Siza traces lines all the way around.  Baseboards stairs, guardrails… he thinks about how it will end."
"Some architects just let the builder figure it out. If you try to make everything expressive, but don't tell the builder how you want it done, it can lead to 'builder's fatigue' where the builder is forced to look at 500 conditions. They either give up, or they get it wrong. Siza restricts the number of detailed conditions by re-using the same methods. Builders can visit his other built works and get a sense of the essence."
This was the same goal described in an earlier article on 3D hand drawing as both problem-solving, and as a communication tool between architect, client, and builder. "Don't just focus on cross sections."
Links
Alvaro Siza, Wikipedia entry
Eduardo Soto de Moura, Wikipedia entry
Interesting biography of de Moura, with some nice insights into his personality, philosophy, and influences. References the train station.
Catenary curve and arch, Wikipedia entry
Feature article describing the senior home by Aires Mateus
Aires Mateus web site, mainly their contact page. The home page shows models of some of their projects as interesting sculptural pieces, but doesn't actually show any built works.
A more informative image portfolio for Aires Mateus.
Centre Georges Pompidou Wikipedia entry
ABAB rhyme scheme in poetry, Wikipedia entry
OMA architects web site
Rem Koolhaas Wikipedia entry
Casa de Música by Rem Koolhaas, Wikipedia entry
Azulejo Portuguese blue and white tile, Wikipedia entry
Feature article describing Nadir Afonso Foundation museum building by Alvaro Siza
Feature article on the Siza and de Mouro collaboration: repurposed monastery to contemporary sculpture museum (MIEC)
The Architects' Take article on 3D hand drawing as a tool for collaboration, problem-solving, and detailing
The Architects' Take article on hand drawing for problem-solving in the field
Feature article on the Boa Nova Tea House renovation by Alvaro Siza<https://www.dezeen.com/2014/07/21/boa-nova-tea-house-renovation-porto-alvaro-siza/>
Photo feature of the Boa Nova Tea house, a nice photo gallery with plans
Feature article on the Boa Nova Tea House from Archdaily
Feature article on the Burgo office tower by Eduardo Soto de Moura