Entry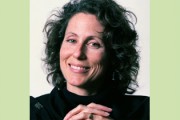 by Rebecca Firestone with Mark English AIA | Interviews
"When the time came for me to start a family, I determined that the best way for me to have the work/life balance that I needed was to start my own practice. At that time, many of my peers were doing the same, because we could create how we wanted to work to support this. We were able to provide good service to our clients, and our clients respected our choice to frame our business to honor both family and profession."
---
This article is part of our Women in Architecture interview series, exclusive to The Architect's Take. Kate and her partner Vera at Arterra LLP work with residential architects to create custom landscape architecture throughout Northern California. You can read our exclusive interview with Arterra at on The Architect's Take, as well as a feature on Arterra's living roofs on our sister blog, Green Compliance Plus.
Why did you start your own firm?
At that time, 20 years ago, I was working for a large planning and design firm. I was one of 6 women in a company of 130. It was a fantastic experience working on international projects with an incredible in-house team of landscape architects and consultants. Typical to the time, there were no structures in place for family planning or work/life balance, for either male or female employees. If you got off the partner track for any reason, it had an impact on your advancement. There were no female role models in that firm. We were on the edge of the gender frontier, and they were looking to us to help define that. So, we had to learn how to seek out mentorship amongst our team members,  both male and female, and create a new kind of supportive environment for all.
When the time came for me to start a family, I determined that the best way for me to have the work/life balance that I needed was to start my own practice. At that time, many of my peers were doing the same, because we could create how we wanted to work to support this. We were able to provide good service to our clients, and our clients respected our choice to frame our business to honor both family and profession. I see that the old corporate structure is changing now. Young people are demanding better attention to things like gender equality and work/life balance. Now, flex time, job sharing, and other job flexibility is more possible. It has less impact than it used to.
Now we are finding ourselves in the interesting time of supporting our own team members as they start their families. We have great people, and it's important to us to keep them happy. It's harder to manage a part-time staff than a full-time one. It takes more attention, more management overhead. We have to be smart about projects and tasks that are the best fit for each part-time employee, whether that person is male or female. We have several employees who are stay-at-home parents a couple of days a week. We have to be mindful of staffing projects with the people who are best suited for the timelines and goals of each project. On certain projects, we are willing to take a little bump in profitability, because we are crafting a work ethic and work ethos in our studio to match our own values of what's important. But the value offsets are worth it: better staff retention, and an overall benefit to society because of better parenting and more family time.
How did you get your first projects for your new firm?
Mainly through our associations and relationships with architects and builders, and from committee work. Early on I was on the Board of Directors at Friends of the Urban Forest. A fellow Board member who was in the Telegraph Hill Dweller Association connected me with another landscape architect. Together we worked on the landscape improvements for Pioneer Park at Coit Tower along with the Association, the San Francisco Department of Parks and Recreation, and the San Francisco Department of Public Works.
Why did you choose to go for your license?
Well, you can't stamp your drawings and get building permits or planning approvals without it. Our license grants us the right to call ourselves landscape architects and to produce construction documents which include grading, drainage, hardscapes, and landscape structures. Getting licensed and registered conveys a commitment and level of professionalism that designers don't necessarily have – I went to university, passed the licensing exams, and now I'm recognized by my peers. Agencies and authorities also honor that license. It elevates our credibility as professionals.
Have you ever been frustrated by your female colleagues?
Yes, of course – and male colleagues as well, especially when we were first starting out in the profession. I would say that in these days, there are so many great examples of women in our field who are a total inspiration. We feel very fortunate to be included in a group of peers who are role models for how to run a successful design business. We freely share our experiences and knowledge, and we expect the same in return.
How do you deal with drops in employee performance that might result from family demands – or any other demand, for that matter?
It's not just women that it happens to. It is a real shift in mentality, becoming a parent. You can't control things as much. Kids get sick, the nanny cancels last minute – you have to juggle multiple priorities and schedules. It can clutter your brain clarity. The people who do best at part-time status are those who are already good at multitasking. Some people are good at multitasking, and others are not. It doesn't have to be a fatal flaw, and it isn't necessarily a trait based on gender.
Do you have any personal stories of discrimination that you faced?
There is one. Early in my career, I worked at a firm in Florida. They realized that they needed to bring in women and promote them in order to create a more diverse company. It was a new concept for them, and I ran into the old-school mentality from time to time, even though they were committed to make this change. I had a male colleague, about the same experience as myself, and they told me, "Of course your pay is less than his, you're not the sole breadwinner. You and your husband have dual incomes." And it wasn't malicious. They just didn't know any better. They identified with the male provider model. In a way, they thought they were doing the right thing, the responsible thing.
But as I said, things are changing. One of my employees was just at the ASLA conference, going to seminars including one on woman-owned firms. She's 40, and I'm 50 – not that different. And she was wondering why they even had a panel about women-owned firms. This is a great example of how much better integrated gender equality is now. We're actually very bullish and hopeful. The tide has turned!
Did you ever have to play golf to be pals with the old-boy network?
No. Actually – I've never been asked.
How would you advise women architects to invest in their careers?
I'd give the same advice to women and men alike:
Be active in a professional group or association. Go for your license to differentiate yourself from the people who aren't serious, the ones who approach it as a hobby.
Cultivate a high level of professionalism through attending seminars, keeping current on new technologies and developments in your field, by speaking, writing, and sharing your voice. Be a resource point for others in your profession. Find a mentor and be a mentor. Develop strong business skills. If you work in a big firm, make the effort to understand the business structure and understand and plan how to grow within it.
There is no reason in this day and age why you can't have your own firm if you want.
Cultivate a sense of conviction and passion for doing good work.
Don't let yourself be an inhibitor, and don't use gender (or anything else) as an excuse if you're not doing your best. If someone complained about being kept back when they weren't giving their all, I'd tell them, "Maybe you need to sharpen your pencil."
It's OK to want to work part-time. It doesn't make you any less of a professional.
Anything else you'd like to share?
I like to keep a positive outlook. Rather than single out women as a group, we should invite and challenge everyone to participate fully in our profession. Hanging back will only hurt your career, no matter who you are. At Arterra, we work with architects both male and female, and our relationships with all of them are excellent. I'm very optimistic about where things are headed in terms of gender equality – the profession has greatly improved in this regard.