Entry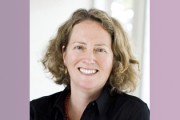 by Rebecca Firestone with Mark English AIA | Interviews
"Women forget that we CAN go with our instinct, we can trust our intuitions. Sometimes women at big firms or competitive work situations take the attitude that "I can make it work… I have to make it work… I'll do whatever it takes, suck it up without complaint". For women and men alike, it's important to have control over our own destiny. Follow your passion, and don't assume there's only one right way to do, or think about, architecture."
---
This article is part of our Women in Architecture interview series, exclusive to The Architect's Take. Amy Eliot of tef Design brings a perspective on working in larger corporate firms. She has notable expertise working with institutional, public, and non-profit clients, enhanced by a diverse portfolio of work that includes cultural arts facilities, corporate interiors and residential work.
Why did you start your own firm?
I'm in a slightly different position, as my firm, Tom Eliot Fisch, is a partnership. Partnerships are different and challenging like any type of relationship; all the partners have to really WANT it to work and be equally committed to that.
Women forget that we can go with our instinct, we can trust our intuitions. Sometimes women at big firms or in competitive work situations take the attitude that "I can make it work… I have to make it work… I'll do whatever it takes, suck it up without complaint" – but that's not listening to that inner voice. We try so hard to accommodate ourselves to our situation, to please the people around us, and we end up sacrificing our own needs.
Is it only women who do this?
Architecture can be a very confrontational, very confidence-driven profession. In some client situations, such as working with non-profits, there are often more women at the table; by contrast, some panel discussions may include one woman, or one minority representative. There are fundamental differences in working styles between men and women in how one feels respected, engaged, and supported.
Can you provide more details?
There's a difference in communication style and in the overall design and decision-making process. Women are more comfortable being consensual and have less need to dominate. There's less chest-bumping, if you know what I mean. But… some of my biggest leaps forward in my career were where I did exactly that.
I've had some interesting experiences with a female housing developer who's a Vice President at a large national Real Estate Investment Trust. She's an interesting model as a highly successful woman in a male-dominated industry. She's been my client on three projects – but we also sit on the board of a non-profit together, in which I was at one point the president and she was a Board member. Our roles were thus reversed. In many ways, this non-profit work has significantly broadened our relationship.
Why did you choose to go for your license?
I never thought otherwise. At the time I was getting my Master's degree in architecture school in the late 70s and early 80s, women were still in the minority by 3 to 1. The women in my class knew why they wanted to be there. Getting licensed was a key part of the process. On the other side, I've known men who have chosen not to get licensed as well.
What has changed is that today, the types of practices have diversified. What constitutes a design practice is shifting in a way that encourages people to apply design skills in more expansive ways that don't require licensing. People don't see the value in getting licensed if they can do what they want without it.
The Millennial generation doesn't care much for the old-school approach.
The Millennial generation is well aware of the situation. They see the writing on the wall. And, they sometimes come with a sense of entitlement. They don't see the same model of "the licensed architect" as I did back in the day. What they see are some highly successful people who have gone the non-traditional route in the world around them. They look at the traditional model and they don't see why they should try to fit themselves into that slot.
Now, this so-called "traditional route" is the career path that is still defined mainly through the leadership of older, white males. For young people just out of school, licensing is not that exciting. Nor is getting FAIA (AIA Fellowship designation) the pinnacle of success for them. The whole idea of starting at the bottom and working their way up through the Internship Development Program does not appeal to them. They don't want that bondage; they don't want apprenticeship. They want freedom, options, fluidity – that sense of connectedness promised by the world of social media. Additionally, they are attracted by the idea of being entrepreneurs.
Have you been involved with professional associations such as the AIA?
There was a time when I was more active within the AIA than I am currently. At that time, I was one of a number of people of my generation in the Bay Area design community who could not relate to the goals and objectives of the AIA. Many of us felt that it did not prioritize design within its strategic and organizational thinking. But, you can't complain if you're not willing to step up to the plate to try to make change happen. You have to be willing to participate in changing the complexion of leadership in order to evolve the professional organizations. So I did; I served on the AIA-SF Board for one term, and revived a committee on design that had become dormant. The purpose of this Design Committee was to open a design dialogue both amongst ourselves and the community at large, and to have a larger influence on the chapter's activities and goal-setting.
I also chaired the AIA-CC Monterey Design Conference in 2001. Then, a year later, I had my daughter. At a certain point I had to ask myself: Is this really where I want to put my energy? Someone once remarked to me that architects need a lot of stamina. And women may feel more pressure to pursue other things beside a full-bore career focus. They want to use that stamina in other ways. It's important for us to define in our own terms what we want to do and how we want to do it.
There's that sense that many women architects aren't really willing to lead a firm without the immediate support of a life partner.
My friends and I used to joke about this over tennis, wondering, "So, how many women architects aren't married to architects?" We'd try to see how many women architects we could think of who were still working primarily as designers – not HR, not research, not solely project management – where their firm partners were not also their life partners. There aren't many firms in this country doing major institutional design work at a significant level that are led or co-led by a female design principal. Rarer still are the firms completely led by women doing that scale and type of work.
And here we wander into the topic of whether women can get away with the same assertiveness as men can.
It's a fine line between being assertive and opinionated, one that can suddenly go all sideways on you. If you're doing a large project with big institutional committees, it's a negotiation act to keep the design intact and still bring everyone along with you. A university client, for example, may not respond well to the take-no-prisoners approach. You have to learn to filter your opinion and not bludgeon people with it.
Have you ever been frustrated by the attitudes of your female colleagues?
Rarely. Much less so than the males, actually. I've always worked really well with women. My frustrations, if any, came mainly from people who bought too much into the male-dominated party line  or acted significantly out of self-interest vs. the interests of the entire group. I've only had one female boss. In the large partnership firms where I worked prior to Tom Eliot Fisch, I always reported to a male boss. At times, I did have to fight for promotions.
The hidden agenda behind that question has to do with whether women professionals with new babies experience a drop in workplace performance – and why.
I've seen this as a problem of perception that happens with male employees, too – with anyone who wants to spend extended time with their family. In one past instance in a large corporate firm, the problem wasn't so much the male employee as the attitudes of the senior management. This employee needed some extra family leave time after the birth of his child, and the management didn't respect him for it. They were treating him like a woman, in other words. The firm paid lip service to "work/family balance" but then they were trash-talking this guy for wanting the extra time off regardless of family leave policies.
I actually had to intervene and stop the conversation. They were saying things like, "We can't count on him… he's under-performing… we can't schedule him… he's not useful enough… not profitable enough… it'll create awkwardness in staffing," and other excuses. The truth is, they didn't want to be flexible themselves.
Having family obligations is often perceived as having divided loyalties: "Why can't we count on you 150% like we used to?" This critique has been leveled equally at both genders. It becomes a juggling act – work commitment and reliability versus family time. Things are changing now, with alternative family structures (gay couples with kids, for example) and with men becoming more involved with their families out of choice and a desire to be part of their children's lives.
Sometimes, women in this position think they can do it all: "I can make it work, I can juggle, I can stay up till 2 in the morning…" They don't want to acknowledge early enough that they can't do it – if your kid is sick, you have no choice but to  deal with it. But you can't leave your boss hanging, either. It takes a lot of maturity to admit when it's not working, and to ask for what you need. Sometimes that means acknowledging that you need to make a change.
Any truth to the notion that women are more likely than men to quit when they have a kid?
In past firms, I have seen instances where women worked, had a child, came back, but then eventually ended up leaving. The reasons they left weren't so much their own lack of initiative as a lack of flexibility on the part of the firm that placed too much emphasis on a highly structured practice with "performance objectives".
The question is more complex than a simple choice between work and childbearing. For women and men alike, it's important to have control over our own destiny, and over our immediate situation. Then it can work. I know a woman who has a high-ranking position at a major management-consulting firm who managed to keep her position while working mainly at home when she had first one child, and then a second. She has the support of a mentor who both respects her and has the ability to back her up, and she takes seriously the idea of maintaining a high level of achievement.
With a top-down management structure, you're just filling a need, and you're therefore dispensable. With more supportive management, you're more valued as an individual, but you still have to deliver, after mutually agreeing on what's reasonable. You still have to manage expectations, on your part and on the part of the firm.
Women may be better off setting their own objectives, which can be performance or personal. Personal needs come into play and influence how they operate, and how they make decisions. Women have to affirm their own value, and not allow themselves to be defined by a single model of practice. It's perfectly OK to move on to other things and carve out their own way of practicing. They will be happier and more successful doing it on their own terms.
The "mommy track" is patently unfair when applied as unofficial blanket policy, tacitly and silently.
I went through some of the psychology of the mommy track 11 years ago. I had just left Chong Partners, I was running the Monterey Design Conference, serving as Chair of the Architecture Department at CCA, and working full-time. Then I decided that I wanted to have a child.
You had your daughter completely solo, without even the support of a life partner. How did you keep your sanity?
Doing it on my own did complicate things, but I managed. It's interesting how I decided to do this – it was the millennium, and I was in Paris on a rooftop with a group of fabulously fun people, most of whom I did not know, but who were very engaging. The hosts were a lesbian couple, and both of them had exes present. In fact, one of their exes had just cooked everyone an incredible dinner, and both of them seemed to be enjoying the event immensely. It was like a huge extended family with lots of loving support and acceptance. That was an eye-opener for me, and it started a year of transformation that culminated in my deciding to have a child on my own.
To raise a child as a single working parent, you really have to believe that it takes a village – and that the village will be there when you need it. And, you have to learn to ask for the help you need. Women are trained not to ask for help or accommodation; it's seen as an expression of weakness that you can't do it all alone. Having children forces you to re-align your priorities.
I bring my daughter to some of my non-profit board committee meetings that I attend at Creativity Explored in the Mission. She's OK with it, even though she's only 9. It's better than getting a sitter, and she gets to see how a real non-profit world operates. She understands what it's like to give back through a volunteer organization. Additionally, she enjoys visiting with the artists in our studio, who do extraordinary work in expressing their views of the world.
How would you advise women architects to invest in their own careers?
Follow your passion, and don't assume there's only one right way to do, or think about, architecture. Whether you practice architecture, interiors or something that incorporates an even broader bandwidth, do it with gusto. Asking a textile what it wants to be is just as valid as asking a brick, to paraphrase Louis Kahn. Gensler has built a global practice around interior design, with over 3,000 employees. As a model of assertiveness and conviction, it's worth serious consideration. Traditional architecture often concerns itself with form and object-making, while interior design focuses on human experience and intimacy. People intuitively understand how interior space affects their lives, while large-scale architecture in the public realm is a much more abstract idea.
I really felt a strong need to incorporate more of how people experience buildings into the design process. The history of architecture celebrates the heroism of designing significant objects, which has appealed more to men than to women. Women aren't known for designing skyscrapers or really big buildings. However, there are a few notable exceptions, including Zaha Hadid, whose personality and talent are certainly on par with those with whom she generally competes.
Having said that, she is no Howard Roark.* One of the more immediate and ground-breaking examples in this country is Jeanne Gang. She's a remarkable person – talented, understands construction, courageous in her aspirations, and committed.
Have you ever experienced gender discrimination?
Not a huge amount, but here's one story that had a happy outcome. I was having a performance review at The Polshek Partnership (now Ennead) and my reviewer, a partner, said, "A lot of people have noticed that you've been speaking up a lot…" as if it were something bad. He added, "But they've also noticed that you have something to say."
"So, what are you telling me?" I asked him.
He paused, and said, "Well… I guess it's a good thing!" It's a turning point, when someone goes from fighting you to being on your side. That's the way great mentorships are formed.
We haven't really touched upon the topic of mentorship, but it's very important. Getting mentorship from a woman can sometimes be difficult, because they want to help you – to a point. They can feel that they worked hard to achieve where they are, or feel that their status is threatened. A good mentor is someone who can transcend this, someone who really wants you to succeed, even if they risk being exceeded themselves.
Any famous last words?
Trust your intuition. Follow your gut. And commit to following your passion!
* Howard Roark is a major character in Ayn Rand's novel The Fountainhead. To quote from the Wikipedia summary, "The Fountainhead's protagonist, Howard Roark, is an individualistic young architect who chooses to struggle in obscurity rather than compromise his artistic and personal vision."