Entry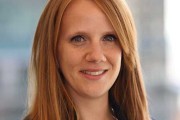 by Rebecca Firestone with Mark English AIA | Interviews
"Cities globally are, and will continue to, have population growth. My question is how will we re-design our cities to accommodate the influx of new residents?… The spaces we design and inhabit today are the artifacts of future generations."
---
Jonelle Simunich, Foresight Specialist at Arup, will be a panelist at the upcoming AIASF Housing Forum, sponsored by the AIA in San Francisco, to be held March 24, 2017 at the AIA-SF offices in downtown San Francisco.
What are your hopes for the symposium? Why are you here?
I have a formal background in urban planning, practical experience as an architect and a perpetual curiosity for the world. In my role as a Global Foresight Specialist at Arup I amplify positive change to shape our future built environments. Here I analyze global trends to understand, inform and plan for future cities and the populations within.
My hope for the SF 2100 Symposium is that people leave inspired and find their unique opportunity to shape housing in our future San Francisco.
Do you think there's a Bay Area housing crisis?
Whether there is, or is not, a "crisis" is not where I believe the discussion should be. The fact is that we, as a region, are experiencing growth and increased urbanization. People are, and will continue to, move here. The question for me is what to do about it? We must consider how to house the continuously increasing population.
Is gentrification a good thing? Bad thing?
One of my favorite traits about being a human is the opportunity for change. Population shifts have occurred since we, humans, began living in groups and communities. We have always moved from one place to another, one city to another, one country to another; whether by choice – the desire to make a better life – or by force, as we have seen in the current refugee crisis in Syria.
This unique ability to relocate, to change and/or alter our habitat is what makes us uniquely human, allowing us to mold to and morph within these built spaces. I think the same is true of the spaces we inhabit. I see our cities, streets and buildings as constantly evolving ecosystems which ebb and flow depending on the people who occupy them.
What does "home" mean to you?
A safe space unwind and express our individuality.
What role do you envision for tech companies regarding Bay Area housing, both responsibilities and opportunities?
I do not believe that technology companies hold any more, or less, responsibility for housing than any other single industry (aside from the unique roles of the Architecture, Engineering, and Construction industries).
Where I see real value is in the opportunity for tech companies and building professionals to pool their collective knowledge. Architects and designers are experts in designing spaces, whereas technology companies are experts in data collection, use, analysis and implementation. Where I see our future is in incorporating technology experts onto architecture and design project teams, ideally at the beginning stages of design, to understand how we might seamlessly embed technology into our physical spaces.
Structures today will last 50-300+ years. We need to design for a future that is adaptable, while considering all possible uses.
Links for Further Study
Arup's Foresight and Innovation group has downloadable white papers, articles, and other resources.