Entry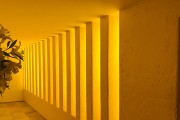 by Rebecca Firestone with Mark English AIA | Editorials
"Color isn't just a surface decoration for Barragán. It's not an afterthought. It's foundational to his architecture. His spaces can't stand alone without the color." Image courtesy Mark English Architects
---
"I never understood how completely dependent his work is on color." Mark English was talking about architect Luis Barragán, after visiting Casa Gilardi, a private residence in Mexico City designed by Barragán towards the end of his life. This house, with a footprint of 10×36 meters, had two design requirements from the client: to keep the flowering jacaranda tree in the courtyard, and an indoor pool. We'll see both of these in just a moment.
A Mexican Lifestyle
This house reflects a very different sensibility from that found in American and European contemporary designs. For one thing, the floor plan reflects a more typically Mexican lifestyle that assumes a live-in domestic helper. American homes don't have maid's rooms unless they're over 50 years old.
Second, Casa Gilardi is focused on privacy rather than permeability – far more common in Mexican dwellings, as well as many homes in the Middle East. Modern homes and apartment condominiums in the U.S. celebrate the "glass box" lifestyle, with open floor plans that erase all boundaries, blending cooking and dining areas, and minimizing auditory privacy.
In Casa Gilardi, window openings are modest, and don't allow passersby to see into the home. The maid's quarters is kept separate from the rest of the house, and the kitchen is by the maid's quarters up front instead of back by the dining area.

Street Facade
Mark English recalled his first encounter with the building itself. "We arrived at the house, located in a modest, typical Latin American neighborhood characterized by two- and three-story anonymous facades. The only hint that something unusual might be found within this house was its brilliantly colored front. We were greeted at the door by Mrs. Luque, wife of one of the original clients, Martin Luque."
"Barragán originally designed the house for a couple of bachelor friends, Martin Luque and Pancho Gilardi, co-owners of an advertising agency. It was a party house! It's now the Luque family home, and is definitely and obviously lived in to this day. The house is not so intellectual – it's more about feeling."
Flow and Privacy
There are several sample floor plans online, although none correspond exactly to how the house appears now. "It's zoned for different levels of privacy," explained Mark English. "After the entry and the service areas, one traverses a corridor leading to first-floor areas for dining entertaining." Ascending the stairs brings us to a deeper level of privacy, to which perhaps not all guests are invited.
The flow is restricted in several ways – intentionally. There's no access to the first-floor courtyard from any of the front areas, not even a window. The only access is from the dining area in the rear. This forces people to traverse through a passage, a golden-yellow light-filled corridor, in order to enter the first-floor courtyard area. The maid's room has a window and access to a separate "patio del servicio". There appears to be a wall separating it from the main courtyard. So there is visual privacy but not auditory privacy.
The second story extends the courtyards with open, smaller courtyards.
Color is King
"Color isn't just a surface decoration for Barragan. It's not an afterthought. It's foundational to his architecture. His spaces can't stand alone without the color – if they were all white, they'd be dead. The color is as important as the volumes." I never thought I'd hear Mark English say something like this… he's a passionate Modernist, drawing his "warm and Modern" inspiration from Mid-Century Modernist sensibilities. In his own spaces, he often employs the "whitespace" look, if we can judge from his office and his Napa house.
After I got up off my fainting couch, I recalled colorist Jill Pilaroscia's parting advice to architects in our interview a few years back, where she said, "Don't be afraid of color. Give color a chance!"
A Wikipedia article notes Barragán's early affinity for le Corbusier's notions that houses are "machines for living", and his subsequent transition to "emotional architecture". Colors have a deep impact on emotions and perceptions, and instead of erasing these to focus on pure form, the architect has employed them as primary building blocks to create a sensory experience.
The Trade-Offs of Relying on Color
I asked Mark if he planned on changing his own design style as a result of experiencing a color-centric environment. "Time will tell," he replied, somewhat enigmatically. "Part of me worries about what happens to a place that is so color-dependent. What if someone paints it white? It would lose all of its appeal and just be dead space. For example, consider a home featuring a curved wall as its central design element. One could paint that wall any color you wanted without marring the original design concept, because the color is not so married to the form."
Corridor Transition to Dining and Pool
After entering, a corridor transitions from the front area to the dining and pool areas. It is only from the dining room that one can even access the courtyard directly.
Barragán creates a sense of abstraction through the use of simple colors and shapes. The interior uses primary colors: blue, red, and yellow, while the walls of the courtyards are complex secondary or tertiary colors: vivid lavender, a sky-blue hue, deep rose, golden ochre, and olive green accents. In some places, the openings seem reminiscent of the sculpturally abstract feel of Incan architecture.

Second Story
The second-story area includes a living room, bedrooms, and exterior courtyards and walkways.

This leaves me to wonder what impact this experience might have on Mark English's future designs.
Additional Links
Floor plans, a good link on Wikiarquitectura.com
Remarks and tour, critique, on Architizer