Entry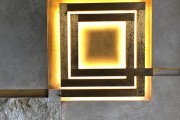 by Rebecca Firestone with Mark English AIA | Editorials
A visit to a former Olivetti showroom in Venice, now a museum, yields new insights into Scarpa's unique genius.
Image: Mark English Architects
---
"Scarpa knows how to focus on detailing… both large and small scale. He thinks of the user's tactile experience." Mark English had visited one of Scarpa's buildings, the former Olivetti showroom, returning with another pile of photos and observations.
Founded in 1908, Olivetti manufactured both typewriters and calculators, and was renowned as a world leader in industrial design. Olivetti even made one of the first programmable desktop computers back in 1964. Remarkably enough, the company's still around – now making smart phones, tablets, and modern-day business products.
Showroom Relics
This building was commissioned by Olivetti in the 1950s as a showroom and used for many years. Later, it changed hands and then was refurbished and restored. In a way, Carlo Scarpa's attention to design and detailing dovetailed with a similar appreciation expressed by Olivetti. There's a sense of permanence to the materials and the execution that is often sadly missing from contemporary corporate structures.
Scarpa's attention to tactile details may also be an important commonality with Olivetti's ergonomic approach to machine design – something that has come full circle with modern mobile devices and their emphasis on intuitive user experience, and personalized touches.
Did Scarpa have any influence on your work? I asked Mark English. "Yes, definitely. Los Gatos and also Green Street, (aka Cow Hollow), both of which involved working with buildings of a different era. Working with history, rather than obliterating it." Marks' Los Gatos project was a restoration and addition to a Mid-Century Modern, and Cow Hollow residence was originally from 1917.
Sculptural and Compositional Qualities
"Scarpa's other works often involved repurposing ancient or medieval structures that are almost primal… primitive. This is a quality often shared by Modern designs as well. Scarpa would take a 15th century stone castle and put light metal bands across it, and suddenly it's a sculpture."
Sculptural qualities and composition abound. The place feels shaped rather than manufactured. It did not come off of a computer. Not randomness exactly, but not thoughtlessly or mindlessly regular. There are subtle and intentional irregularities: openings round and square, pieces joined together with a zigzag, straight lines that pause and then continue.
Syncopation seems to be a feature of the composition. Openings are offset, rhythmic; they don't line up all the time. But it's not careless, or chaotic. It's not "clever". Various openings between floors and spaces allow more materials to juxtapose within viewer's gaze.
Materials and Textures
Materials and textures have a hand-finished quality: plaster, wood, tile, stone, concrete. In some cases rough and smooth textures of the same material are carefully juxtaposed. Different types of materials joined together. Also the thickness of the stone veneer is alternated on corners (similar to the Portuguese Modernists we featured a few months back)
Limestone an plaster are more tactile than, say, marble and glass. Plaster sheen subtle, not drywall. Small irregularities.
The Stair
What's a work of architecture without a stair? This stair had some sculptural elements in common with our Portuguese Modern walking tour. The careful detailing, attention to treads and landings, and keeping it interesting.
Color Palette
Scarpa's palette is disciplined but not monotonous: mostly natural cream or earth colors, nothing starkly white or black, together with brass, wood, hand-plastered walls, with a few red, yellow, and blue accents scattered throughout the building.
Visual Destinations
Various openings and corridors have visual destinations at the end to entice the visitor forward.
Light and Mystery
This museum differed from modern showrooms in one other way. The lighting wasn't over-designed. Modern tech showrooms are flooded with light from all directions, with pinpoint spotlights on every piece of merchandise. Scarpa's Olivetti showroom seemed to utilize a lot of natural light, and was not over-lit. This, combined with thoughtful and natural handmade materials, conveyed a sense of quiet drama, mystery, and timelessness.
Links