Entry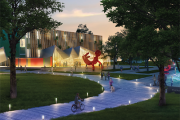 by Rebecca Firestone with Mark English AIA | Editorials
There's a bold plan afoot to transform Bentonville, AR from a rural business hub into an international, cosmopolitan destination. (Image is from one of the competition winners, Kevin Daly Architects)
---
Bentonville, Arkansas would seem an unlikely spot for the newest attempt at company-town social engineering. Yet this town of 49,000 people is the focus of an unusual collaboration between academia, a private family foundation, and the architectural profession. The latest focus: design proposals for multifamily housing on 5 pre-selected infill sites. This would be a major change in an area that is predominantly suburban in character, but is seeing a major influx of population attracted by its regional beauty and quality of life.
It's a complex web of players. The Housing Northwest Arkansas initiative is a project at the Fay Jones School of Architecture and Design in nearby Fayetteville. HNWA was funded by a $250,000 grant from the Walton Family Foundation with the specific intent of spurring the creation of high-density housing in downtown Bentonville.
And why is the Walton family so concerned with housing in one particular spot? Because Bentonville is where they grew up, and they have an interest in promoting thoughtful forward planning as Northwest Arkansas experiences rapid population growth. Yes… it's also the headquarters of Walmart, and spokespeople at both the Walton Family Foundation and HNWA have emphasized that their projects are independent efforts, and do not receive funding from the corporate entity.
What's At Stake
Dean Peter MacKeith of the Fay Jones School of Architecture at the University of Arkansas outlined the reason why there's such a pressing need for change in Bentonville and Northwest Arkansas.
"There are 650,000 people in a 4-county area and there will be 1 million in a decade. It's an area of high growth, with low-density housing patterns. People are increasingly moving here for employment and quality of life. And they're facing housing prices that are too high, with long commutes."
We spoke about a new concept in home prices called attainable housing. Affordable housing has come to mean subsidized housing for very low-income clients. "Attainable" could mean "within the reach of anyone making a modest but steady livelihood".
Housing pressures are already forcing up housing costs in a way that sounded almost like Manhattan. From 2012-2017, residential costs in downtown Bentonville rose 207%. Alice Walton of the Walton Family Foundation penned a guest commentary in the Northwest Arkansas Democrat Gazette saying, among other things, that "our communities need access to a robust mix of housing options so teachers, artists and firefighters can live in the neighborhoods they serve."
A Three-Pronged Approach
Anne Fougeron, FAIA, described HNWA's three-pronged approach.
A semester-long design studio at the Fay Jones School of Architecture and Design, where Fougeron is co-teaching as a visiting professor.
A housing symposium, that took place this past February.
An international design competition. Of 125 original firms, 25 were invited to submit entries for multifamily housing projects on one of 5 identified sites. Winners were announced on May 10, 2018. Presentation of the design competition winners opened with a developer showcase to stimulate interest.
Walton Family Foundation's Role
The Walton Family Foundation is doing a lot more than housing. Their work focuses on three main areas: K-12 education, Environment, and something called Home Region: "Enhancing the quality of life in our home region of Northwest Arkansas and the Arkansas-Mississippi Delta." The vision is one of revitalization through education, economic development, culture, and recreation.
The Walton Family Foundation's Home Region page refers to support for "unique downtowns of the region… cultivate what makes each community unique" and a desire to "establish the region as a global leader and top destination in education, arts and culture and recreation". It's a very optimistic, forward-thinking vision – unhampered by the convoluted approvals process and gentrification concerns that bedevil any redevelopment attempts in California's Bay Area, for example.
When I approached the Walton Family Foundation to ask about the specific significance of the HNWA, a spokesperson pointed me to a press release describing the Foundation's focus on the the downtowns of northwest Arkansas. The press release also references a Downtown Vitality Report commissioned through the University of Arkansas, as well as a forthcoming study that will focus on workforce housing and long-term regional housing growth.
The foundation's interest in downtown development includes support for the arts: one of the items in the press release described a $400,000 one-year grant to Artspace, a nonprofit, real-estate developer and property manager, to assess the availability of exhibition, performance space, studio area and affordable housing for artists in Northwest Arkansas.
A Few Anchors to Jump-Start
Bentonville's transformation has already gotten off to a strong start: the new Crystal Bridges Museum of American Art, and the 45-mile long Razorback Greenway, both sponsored by the Walton Family Foundation. (The Razorback Greenway received funding from other sources, including partner cities and various Federal and state-level transportation agencies.)
Rather than a single monolithic effort, this is a series of boosts, strategically applied in the right place at the right time, appealing to influencers who can move faster than government agencies – and those governing agencies will be happy to jump on board once the train is already moving.
Why Multifamily Housing?
Even as we go along with the idea that all this is totally separate from Walmart, nothing to do with the corporate entity that is one of the biggest employers in the South and one of the three main employers in Bentonville itself, there is a parallel thread worth mentioning: namely, the competition between Walmart and Amazon, and the business pressures facing big-box stores in general as shoppers look to do an increasing amount of their shopping online.
Walmart is seeking to modernize all of its operations: online shopping with higher-end merchandise, crowdsourced delivery, in-store robotics, voice-enabled commerce, analytics. This means a technically savvy workforce: most likely, millennials, who are also a target customer demographic. And millennial workers don't seem to want to live in the 'burbs or embrace car culture. They want hip, walkable downtowns and might prefer to bike rather than drive if they can.
Walmart Labs is tasked with bringing this modernization about, expressed with the motto "a line of code can change how the world shops". Walmart Labs is located in San Bruno, CA, right outside of San Francisco. There's a direct flight every day from SFO-Bentonville, where Walmart has its corporate headquarters. Anything like HNWA that can inspire new patterns of living density is likely to attract the same urbanites that Walmart needs to stay competitive in a world that changes faster every day.
Another spur is sustainability. Unregulated sprawl can lead to an over-reliance on cars and private transportation, as well as straining municipal infrastructures for water, power, and emergency services. The new urbanism emphasizes high-density living and smaller footprints, smarter systems, with economies of scale in materials and construction.
Fay Jones Visiting Professor Anne Fougeron noted, "There's no infrastructure out there. So far, it's been everybody left to fend for themselves. It's either sprawling strip malls, or it's lovely. Downtowns are decimated. But things change very quickly now. If people don't get what they want, they go someplace else."
Mark English, this blog's sponsor, weighed in. "Paul Krugman of the New York Times gave a recent talk about the pace of change. During the 2008 recession, people were so preoccupied that they didn't notice that the world was fundamentally changing. Technology such as the iPhone changed how people communicated and lived their lives. Things are changing so quickly… but getting things built is still slow."
"You need private money to change things now," said Anne Fougeron. "Government takes too long. A private foundation can move a lot faster. This could be a model for how private philanthropy can jump-start other efforts, too, make room for smaller developers who know the area."
Regional Housing Symposium
I was interested in the housing symposium, which included national experts from various levels of government, design and planning professionals, academics, developers, and urbanists. Case studies ranged from Austin to Detroit, Northern Virginia, and Portland. Dean Peter MacKeith spoke about the symposium.
Do you see this as a model for other parts of the country?
"The ambition of the symposium was to explore the issues of housing in Northwest Arkansas through a broader context of housing issues across the country. We aimed to provide a set of examples, case studies, and means and methods that local stakeholders could implement. Symposium attendees included developers, designers, city planners, construction firms, and interested community members."
The case studies presented at the housing symposium were far from uniform. "While many explored new construction of housing, Esther Yang's examples from Detroit addressed repurposing existing structures. As she described it, Detroit's financial crisis led to thousands of empty buildings across the city paired with community distrust of government initiatives, so the case study presented the Planning Department's process to regain trust and invite the community stakeholders to provide input for renovations."
"Case studies explored unique examples of funding, land donations, zoning changes, partnerships, and collaborations. Lisa Sturtevant's example from Northern Virginia addressed sprawl and lack of attainable housing through a partnership between a university, the state, the city, and a non-profit entity to develop attainable rental housing for employees and students. The built project created a university community for the previously commuter-centric campus."
"While most of the case studies addressed during the symposium were deemed successful, presenters also discussed the project aspects that were less effective, and what they learned from the process. Sometimes the lesson isn't in what they did, but, in hindsight, what they wish they had done."
Competition Winners
"We were incredibly gratified by the strong response to the design competition," said Peter MacKeith. "Astounded, in fact. Competitions like this one are a very large undertaking for an office of any size. It indicates a passionate interest in affordable and attainable housing, and a strong belief in what we are doing here in Northwest Arkansas."
"The competition brief emphasized quality of ideas, and also constructability." Some of the entries were very explicit about construction methods and materials, and at least one proposed a Net Zero Energy project, meaning energy-efficient. "Developers so far have focused on single-family housing. Large, distant, and reliant on cars and extensions of city services. We need to change the rules of the game."
The competition was a 2-stage, invitation-only affair: first, the HNWA sent out 125 request for qualifications, and received 55 responses. From that, the entrant pool was narrowed down to 25 invitees, all of whom submitted "very high-quality entries". Shown here are the winning entries for sites 1, 2, 3, and 5, and commended entries for site 4 and 5. (No winning entry was selected for site 4.)
All the design entries are available to view on the Housing Northwest Arkansas web site.
The jury consisted of five highly distinguished individuals, three of whom were prominent architects: Anne Fougeron, FAIA (Jury Chair), Jeanne Gang, FAIA, and Marlon Blackwell, FAIA. The other two jurors were Brenda Anderson of the Northwest Arkansas Downtown Revitalization Fund in Bentonville, and The Honorable Shaun Donovan, former U.S. Secretary of Housing and Urban Development and a Harvard University Senior Strategist.
Competition Rules
The competition brief emphasized, among other things, a concept of "attainable" housing. This makes a clear distinction between "affordable housing" which is subsidized for very low-income populations, and "attainable housing", aimed at a middle-income market – people who make too much to qualify for subsidized housing, but not enough to afford market-rate housing in the areas where they want – or need – to live.
Some of the brief's other verbiage seems to dovetail with green urbanism: walking and biking, interactivity, a porous flow of people rather than isolating residents from their surroundings. There were 5 infill sites selected, and each invited firm was assigned one of these sites.
Proposals should "complement [ existing ] plans for the pedestrian and bicycle oriented environment… embody and enrich the urban fabric in unique and innovative ways… encourage residents to interact with other residents, [ and ] engage in alternative means of transportation… and to participate in… the vibrant downtown culture of Bentonville…"
Designs should also "… avoid the mundane, the redundant, or the uninviting." Filling up every available inch of land to maximize investor return was also discouraged. The buildings had to meet current building and planning codes, and local zoning requirements.
Gallery of Jury Comments
So, why were the winners selected? All of the entries looked so intriguing. The juror comments spoke overall about creating a "compelling sense of place" and a sense of confidence in the winners' "abilities to develop the projects into outstanding housing…"
(All images below used with permission from the Housing Northwest Arkansas Initiative and the Fay Jones School of Architecture and Design.)
Design Studio
I asked Anne Fougeron how the students were doing. "They're befuddled by housing. They're more used to designing museums." Peter MacKeith remarked that "housing design as a topic for education is normally not met with student enthusiasm, no matter how important the topic is for us all."
It seems that the students rose to the task, according to MacKeith. As part of their final studio project, they prepared entries for the same competition, using the same program as the professional competitors. "The students emerged from the studio with a real appreciation of the issues and a belief in the typology."
The students aren't the only ones appreciating rural vernacular. A developer called GreenSpur has come up with high-performance models that incorporate public gathering spaces and explicitly references a "pre-World War II American lifestyle".
Will Any Of These Get Built?
I asked Peter MacKeith whether any of the proposals would actually get built. "That is the question. In the minds of the Walton Family Foundation, the question isn't if – it's when."
"The school can educate students and the community and serve as an ideas incubator for housing in the region. We can facilitate the introduction of these ideas to the developer's bottom line. They have to cost out the buying of land, as well as design, financing, and construction. The school can play a role in the dissemination of ideas."
"Some things could happen. A private foundation could provide financial tools. Municipalities could lower the cost of land, and incentivize good design through tax credits and land banks." Anne Fougeron also noted, "Developers need seed money to get through initial permits and entitlements. Later, they can get a bank loan."
Events as Anchors
Peter MacKeith also mentioned something else regarding future developments. It's not just about design, or about buildings. This came up as we were discussing inclusivity, actually.
Can you really design your way into a civil society?
Peter MacKeith responded, "That's the question. It's difficult." Stephenie Foster elaborated. "A strategy of both place-making and community activities seems to be helping in Bentonville. Activity-centered design elements like bike trails, and museums and parks that host concerts and festivals, help to promote interactions between long-time residents and newcomers. These events are well-advertised and promote a welcoming and inclusive community."
Like many other towns, Bentonville has a "First Fridays" event, as well as other street festivals, which… well, they're probably not like Burningman. And maybe that's OK, if it's Middle America they really want – urbanism without the edge.
"Festivals bring people together for a purpose and when participants leave with pleasant memories of interactions with strangers in special settings, that goodwill carries over to the place. These positive interactions help long-time residents become more accepting of newcomers and less likely to feel threatened or suspicious of them."
Hijacking Local Culture
I wondered about other cultural shifts, and spoke from my own biases. Is this Trump country? What about all the OTHER cultural trappings of urbanism? Political liberalism? Multiculturalism? Interracial dating? Unisex bathrooms? Godless atheists? Rootless cosmopolites? Solar panels? Can you really transform a city's entire cultural and political climate with a bunch of apartment towers? And could this wave of new development address decades of structural racism, or will neglected and excluded populations remain left behind yet again?
The Bentonville downtown square apparently has a Confederate monument (which was the subject of a local petition last August). Not having visited myself, I'm limited in perspective as well. I would like to think that there is a place for historical openness, eventually. In order to be sustainable and credible, this should stem from local sentiment rather than outside pressures.
Would I Go There?
Absolutely! If for no other reason than to experience firsthand all of these elements that I've written about from afar. Like any area, there are many layers of culture to be discovered, and it could be a very interesting time to see what happens to a town that reaches a certain tipping point. Hopefully, it will be a positive change that sets a tone for other redevelopment efforts elsewhere.
Stephenie added, "Bentonville has a quaint, beautiful little town square. It used to be sleepy and would shut down at 5pm. Now you can be out at 10 pm and see 25 people in the square, out and about."
Links and References