Entry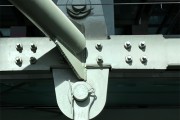 by Rebecca Firestone with Mark English AIA | Editorials
" It's an interesting building from the inside. The books hang from a ceiling structure in open cages. Visitors walk along bridges, catwalks, ramps, and stairways, all within a giant 70-foot shell. Inside, it's clean and orderly, a refuge from the chaos outside."
(Image: Mark English Architects)
---
"It's an interesting building on the inside," said Mark English, speaking of the Biblioteca Vasconcelos, a library designed by architect Alberto Kalach. "A different way of arranging books."
My first impression from the photos was of Ridley Scott's movie "Blade Runner" – futuristic, albeit less dystopian. What recalled the movie was a sense of open space, fully utilized rather than empty: industrially efficient, perfect for those hovercraft chase scenes.
"The books hang from a ceiling structure in open cages. Visitors walk along bridges, catwalks, ramps, and stairways, all within a giant 70-foot shell. The building is a single heavy container with lightweight tensile suspension within. Rather than a series of floor plates, the interior is one big continuum."
Another building it recalled for me was Lina Bo Bardi's MASP  building in Brazil: an art museum with a steel and glass shell, with the art suspended and long lines of sight from end to end within. Mark didn't quite agree – he's the one who's actually been to both places – so instead we explored what he felt about the experience itself.
"Inside this library, you feel that you can move. You're experiencing space the entire time. You can see through the floor, see where you are in the building."
"Unlike MASP, which celebrates exterior views, this building is defensive. It's located in a rugged, working-class neighborhood and doesn't open to views or the street except in a few small areas. It's more like a ship. Inside there's more drama. And yet, it's clean and orderly, a refuge from the chaos outside."
A refuge? "People who live in tiny apartments where it's noisy and chaotic can home here and experience volume and quiet," Mark replied.
"I wouldn't compare it to the Brazil MASP building so much as Will Bruder's Burton Barr library in Phoenix, even though that one is more traditional," Mark added. Both use practical devices to respond to the environment without an over-reliance on mechanical systems."
"One thing about this building is it has no ducts, no giant mechanical chases. It didn't need air conditioning because it's vented at the top and bottom." Was it hot in there? I wondered. "Mexico City is one and a half miles up from sea level," said Mark.
Instead, the architect employed low-tech devices such as brisé soleil or "sun breakers", which Mark also noted in Sao Paulo. Architects such as Louis Kahn and le Corbusier also used natural shading for climate control.
Was there anything you didn't like about this building? "The main facade is a parking garage entrance. It's an uninspiring presence. The exterior, and how to get inside, are not so apparent. However a lot of this is site planning constraints. It's a long, narrow building and the architect has to work with what is there already."
Image Gallery
Links and References