Entry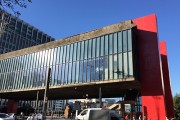 by Rebecca Firestone with Mark English AIA | Editorials
Mark English on Lina Bo Bardi:
"Her building is one of a kind… heroically sized in every way: the biggest span, the most prominent location. It's a brave building, amazing and gutsy.… I don't like overly designed, overly gestured work. In MASP, the building has a sweeping sense of movement, but also a neutral feel. The art is the star, not the building."
(Image: Mark English Architects)
---
She left war-ravaged Milan in the 1940s and came to a new, young country, with a new husband and ambitions as big as Brazil itself. A female architect in male-dominated field, Lina Bo Bardi was also at various times a magazine editor, art exhibit and theater designer, furniture designer, educator, and socialite – and, a self-declared Stalinist as well. Her work is hard to pigeonhole: sometimes vernacular, sometimes Modern, often theatrical and resourceful in use of materials to achieve unexpected effects.
Mark English visited one of her best-known buildings, the São Paulo Museum of Art, known in Portuguese as Museu de Arte de São Paulo, or MASP. A glass box spanning over 200 feet between enormous concrete-clad pillars, it houses an eclectic collection of art pieces, ranging from pre-Renaissance up to the late 20th century. The latter is mostly from Latin America, the other art mainly European, up through the Impressionist era.
What makes this building so special? Mark replied, "You can see the city life out of the windows. When you want to take a break from the art, you can look out over the cityscape." It's true, too. The standard practice for museum design is to isolate viewers from the outside world, as if art existed in a vacuum.
The first thing a seasoned museum-goer might notice is the unusual staging and exhibition area. Most museums hang paintings on the walls of various enclosed rooms, grouping items together by historical period or other commonality. MASP displays the pieces in a large open hall, suspended from the ceiling against clear panels that allow the viewer to walk completely around each piece, while other artworks are clearly visible both near and far away.
The Artworks Inside MASP
How did you like the art at MASP? I asked Mark. "They don't have 'minders' to harass you, no lines on the floor keeping you away from the art. It's a pleasantly sized collection, not too wearing to see it all. It helps that you don't have to move from room to room. You can wander in any direction."
The Construction Process
Mark English was, of course, interested in the construction process as well as the finished building.
From Achillina Bo to Lina Bo Bardi
One comprehensive source of information about Bo Bardi's life is the book Lina Bo Bardi, by Zeuler R. M. De A. Lima. You'll need your reading glasses and some patience to wade through some of Lima's academic prose. Born it Italy, Lina Bo Bardi trained as an architect only to see her country ravaged by World War II: "nothing was built, only destroyed".
Experiencing these traumatic upheavals, including daily bombings at one point, may have given Bo Bardi a different take on both survival and architectural priorities. Rationing, homelessness, temporary shelters, and reconstruction led her, while still in Italy, to consider housing as a focus for humanity.
Bo Bardi on Architecture for the People
Inspired in equal parts by old and new, Bo Bardi promoted the viewpoint that there was "a rational logic in rural architecture", and in rural culture as well. European name-branded artists were, in her view, on a par with anonymous artists and ethnographic artifacts from rustic parts of Brazil and elsewhere.
At one point, Lima quotes a few of Bo Bardi's more blistering architectural critiques as follows: "architects invent deformed structures in their search for hermetic subtleties or extravagant forms". (p. 50) producing works of "conceptual renovation reduced to merely visual, pictorial appearance" (p. 81) She felt that architecture should meet practical needs, work even under technical limitations, be humane in approach, and serve the collective welfare through modesty, economy, and quality of life.
Mark English observed that "Most of us in the architectural profession would agree with this in theory, but it's a rare attitude in practice. Of the architects doing housing, particularly affordable housing, not many would spend the energy on quality of life issues. Oftentimes, though, housing architects' agenda may be more abstractly political."
I asked Mark whether he saw any evidence of Bo Bardi's interest in vernacular architecture in the MASP building itself. He responded:
"You don't see the vernacular in her work, not in the MASP building itself. It's more akin to Oscar Niemeyer, to le Corbusier. Le Corbusier also had an interest in vernacular architecture, although he distilled it through modern materials and methods. His sense of space, and the ordering of space was different, as well."
Architecture and the Female Gaze
Mark continued, "There's something female-oriented in Lina Bo Bardi's concern for the welfare of families, in how people live inside their housing structures. Male architects talk more in terms of the urban form and landscape, how buildings relate to one another. David Baker may be one exception."
Architect Anne Fougeron had said something similar once, regarding quality of life, when describing her design for a Planned Parenthood clinic.
"With the Planned Parenthood clinics, I didn't want clinics that look like a prison. There's already so much victimization of women… why punish them further by making them come to a jail for basic care? Ninety percent of Planned Parenthood's business is providing basic gyn care – exams, pap smears – for women who can't afford it any other way. These women are already going through enough in their lives… The clinics should make them feel wanted and safe."
Bo Bardi Was a Fascist, Too
And then, to balance out the altruism, here's a quote from Lina Bo Bardi that is excerpted from Lima's book, quoted online from Places Journal:
In response to a question about navigating the dilemmas of democracy and authoritarianism, socialism and capitalism, and private and public initiatives, she said: "In Brazil, I have always done everything I wanted." She added, "I never faced any obstacles, not even as a woman. That's why I say I am Stalinist and anti-feminist."
…She did not explain these provocative assertions, which were published in newspapers and contributed to her personal mythology. Not everyone understood that Bo Bardi considered Stalin a hero in the liberation of Italy from fascism, or that what she opposed about feminism was the women's liberation movement, which she considered a bourgeois dispute. In fact, she admired an earlier generation who fought for equality, and she noted that among the poorer classes women always strove side by side with men.
Mark English remarked that "Corbu at various times was a socialist, a syndicalist, a fascist, and a democrat. It's unavoidable sometimes, if you want to get things built."
References and Links for Further Discovery