Entry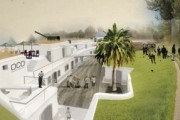 Tuesday, August 21, 2012 | Mark English, AIA | Short Takes
Our Friends in Portugal have just announced that they have won an International Competition hosted by Architecture for Humanity. Keep up the great work, and congratulations!
---
Our Friends in Portugal have just announced that they have won a "CHALLENGE AWARD" in an International Competition hosted by Architecture for Humanity.  Keep up the great work, and congratulations!
Here is the information:
"The Competition
Every two years, Architecture for Humanity's Open Architecture Challenge draws international attention to critical issues of built environments that affect the prosperity, health and welfare of communities in general.
The contest Open Architecture Challenge: [UN] RESTRICTED ACCESS 2011, organized by Architecture for Humanity, has developed this year under the theme of recovery of disabled and abandoned military sites in favor of a new civic, social, economic and environmental character.
The winners were chosen by a jury of 33 professionals, based on five criteria: community impact, contextual appropriateness, ecological footprint, economic viability, and design quality. There were 510 teams registed from 74 countries, which summarized the 13 finalists, who will now exhibit at the Venice Biennale 2012. As the winner emerges the proposal, "OCO – Ocean & Coastline Observatory," in Trafaria, Portugal.
____________________________________________________
The Project
All military sites have a common basis; they all occupy strategic geographic locations.
We believe the Portuguese role in the world is still very attached to the ocean. More than an economic [asset], the ocean is an element that defines us, that gives us identity, and that is part of our history. The Portuguese Exclusive Economic Zone (EEZ), is the 3rd largest in Europe and 11th worldwide.
The 5th battery Trafaria or 'Bateria da Raposeira', is located near Trafaria, located in the Tagus estuary, on the opposite side of Lisbon. Part of a large network of buildings for the military protection of the coast, we concluded that the civic proposed program, which would replace the military, must maintain the building's previous vocation, situated atop a hill facing the sea, to defend the coast, now a civic character, preservation and sustainability. The old battery from the 5th Coast Artillery Regiment (Regimento de Artilharia de Costa – RAC) would host now the Coast and Ocean Observatory (OCO)!
The "OCO – Ocean & Coastline Observatory" should be a place to oversee the development of sustainable preservation of the coast, a place where people of different communities can meet and share their concerns, plans and ambitions for the coast.
____________________________________________________
The Team
We are a collective of young Portuguese architects, residing in Lisbon, which meets periodically to discuss and work on a variety of subjects including architecture! We do not have a fixed number of members, which may fluctuate depending on availability or mood!
For the competition [UN] RESTRICTED ACCESS 2011 the team was:
João Segurado
João Figueiredo
Manel Espada
José Pereira
Mauro Jerónimo
Filipe Freitas
Luís Sezões
____________________________________________________
The Future:
First we have the honor to be present at the Venice Biennale 13th International Architecture Exhibition, Centuries & TRACES OF FUTURE STEPS, 29 August to 25 November, an exhibition which will become itinerant and we hope to receive it at "home" depending on whether there is interest from future developers and or institutions like the order of Architects for example.
Hopefully after this work, recognized by this competition of ideas, will serve as a document that can and should be explored and may be something more solid. Will be presented to various institutions and organizations, that may be interested and realize the potential investment. Always with the conviction that Trafaria, is a very poor place, with lack of investment, but with incredible potential.
____________________________________________________
Contacts:
Arq. Manuel Espada
espada.manuel@gmail.com
965159257
Arq. João Miguel Segurado
joaomiguelsegurado@gmail.com
919912878
http://openarchitecturenetwork.org/competitions/challenge/2011
http://architectureforhumanity.org/updates/2012-08-01-challenge-winners-announced
---
About the author

Mark English, AIA, Founder and Principal of Mark English Architects, has been working in San Francisco and the Greater Bay Area since 1992. His designs reflect of resourcefulness and efficiency to create high-quality residential design.
---