Entry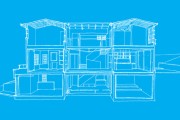 by Mark English, AIA | Work/News
Austin's Green Street Cottage, which Mark English Architects had the privilege of remodeling, was designed in the style of the First Bay Region Tradition.
---
Every Building project is, in essence, a prototype.
When a computer or automobile maker designs a new product, the team of designers, engineers and fabricators work together to make the "first" of many. Bugs and difficulties are worked out as the prototype moves toward production. We in the construction industry don't have that luxury – it has to be right the first time!
The process of design and construction, which results in a custom home, is unknown to many. Every beautiful home is the result of innumerable hours of communication through sketches, models, renderings and conversation. This post records some of the highlights of that process for the Green Street House. Our Builder was De Mattei Construction, and the Landscape Architect was Scott Lewis Landscape Architecture.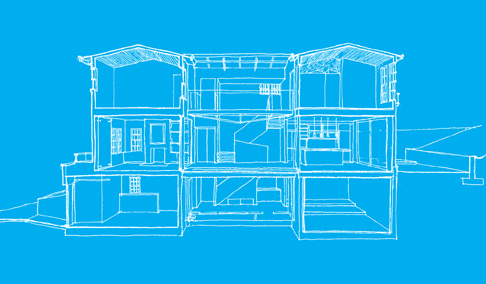 ---
Location
---
History
In 1917 the P.J. Martin Estates Company hired the architecture firm Austin & Sanford to design the cottages at Green Street in San Francisco. These historically significant homes are notable for being designed by one of the Bay Area's first female architects, Elizabeth Austin. Austin, who designed over 30 Bay Area homes during the span of her career, studied architecture at the University of California at Berkeley. In her early career she collaborated with her colleague and friend Florence T. Hincks; they worked together to design such projects as her own mother's house on Union Street in San Francisco as well as the Gamma Phi Beta Sorority House in Berkeley. From 1914-1917 she partnered with Sandford (about whom no records exist), designing the Green Street cottages among other projects such as a stage for the St. Francis Theater and another cottage in Mill Valley. Austin later moved to France, joining the American Women's Overseas League and upon her return to the Bay Area worked for the Henry H. Gutterson architecture firm until 1943. In 1944 she served as a WWII nurse and it is unknown whether she returned to practice architecture with Gutterson after her service. Austin retired from the architecture field in 1953 and passed away in 1958.
Austin's Green Street Cottage, which Mark English Architects had the privilege of remodeling,  was designed in the style of the First Bay Region Tradition. Inspired by the Arts & Crafts movement, this style flourished between 1895 and 1917 and featured a West Coat interpretation of shingled facades of the East Coast traditions. The Green Street home features such prominent First Bay Region features as wood shingle siding, gables, asymmetrical facades and their more classical characteristics of pilasters and balustrades. Other Bay Area architects who worked prominently in this style include John Galen Howard, Ernest Coxhead, Julia Morgan and Bernard Maybeck. In his 1904 book The Simple Home, Charles Keeler outlined the four principles of the First Bay Region:
1. Utilization of undisguised natural materials from the local environment, such as cedar, redwood, and oak, as well as brick and stone. 
2. Combination of traditional craftsmanship and historic motifs, such as Gothic arches or Doric columns, with moden building materials and construction methods, such as plate glass windows, reinforced concrete, and asbestos siding.
3. Integration with surroundings, both through the use of site-sensitive designs and natural materials, and by bringing "the outdoor indoors" with such devices as large areas of glass, balconies, and decks to allow sunlight and breezes from outside to flow through the interiors. 
4. Making each building a unique design unto itself, an original work of art that fulfilled the specific needs of the client and the nearby community. 
---
 

Concepts
Concept 1 Model:
Concept 1 Renderings:
Concept 2 Renderings:
Concept 3 Renderings:
Concept 4 Renderings:
Final Concept Renderings:
---
Process
Study Model:
---
In Detail: Stairs
Concept 1 – Steel Handrail:
Final Concept – Glass Handrail:
---
In Detail: Bridge
---
 In Detail: Fireplace
Sketches:
---
 

Drawings
---
Landscape
Sketches:
Concept 1:
Concept 2:
Concept 3:
Concept 4: