Entry
by Natalia Lerman | Mark English Architects, Work/News
In early April I crossed the Atlantic to attend this year's annual Design Week in Milan. It didn't take much convincing when I first shared the idea with Mark.
---
In early April I crossed the Atlantic to attend this year's annual Design Week in Milan, Italy. It didn't take much convincing when I first shared the idea with Mark — he immediately recognized the trip's potential to inspire the team and replenish our materials library with Europe's finds.
I was joined by my architect friend Masha. As it was our first time at Milan Design Week, we spent the entire time in absolute delight and rapture at what was happening all around us. And yet, almost a week of exploring for 12+ hours per day until we literally couldn't walk was not nearly enough see it all. 
Before moving to California, I regularly visited Saloni World Wide, which has come to Moscow every year since 2005. But this did not prepare me for the epic scale of the Milan Design week!
When I returned to San Francisco – equal parts exhausted and inspired – I couldn't wait to share all that I had seen with my colleagues. After having completed four presentations to the team, I'm finally ready to share my highlights with you!
Milan Design Week and Fiera Milano
Once a year during design week, nearly the entire city of Milan is transformed: literally hundreds of showrooms, exhibitions and installations open their doors to international guests. The largest number of events take place in the famous Brera Design District, which is not only the creative and cultural center of Milan, but also an international design showcase and reference point for designers worldwide.
The biggest and the most famous event at Design Week (and largest international world-wide furniture fair) is always Salone del Mobile. And this year was one of the most ambitious in the history of the exhibition. The 58th exhibition was held at Fiera Milano in Rho – an impressive contemporary venue – the creation of Massimiliano & Doriana Fuksas.
The entire exhibition complex consists of 8 large buildings housing the exhibition spaces, as well as smaller buildings with everything from snack kiosks, shops and pavilions to hotels, offices and exposition spaces. All of these spaces are stacked on either side of the main pedestrian alley bisecting the venue and accessible by escalator. 
The central thoroughfare and all adjoining buildings are canopied in a lattice shell consisting of glass panels. Circular steel beams that mimic tree trunks and accommodate roof drainage. Standing inside, I was struck in awe at how the architects managed to create a space that at once feels modern, technological and grand, yet somehow organic and intimate.
Design trends, just as the concept of beauty, are always subjective and often inspired by fashion, environment and time. Many of them come and go, but there are the few that somehow remain relevant, regardless of epoch and lifestyle. These rare designs owe their longevity to masters who have continued to develop their method and refine their craft over decades, and even generations. Such timeless designs transform along with the ever-changing world, reflecting the past while openly looking towards the future. This year's design week once again showed that innovations in lighting, thoughtful use of natural materials and experimental design.
Salone del Mobile is held every year together, with Euroluce in odd years and EuroCucina (along with the International Bathroom Exhibition) in even years. This year Euroluce took center stage with 4 pavilions showcasing new lighting products and ideas, with a particular focus on recycled and low environmental impact materials.
To find yourself among Bocci lighting is to be in a magical world filled with stunning luminous sculptures. The company seamlessly combines unique design and state-of-the-art technology – plus a touch of the unexpected – in artfully-designed products.
When looking at the Vibia pavilion, it seems that the designers were inspired by the theme of simple geometry. Perhaps they wanted to subtly illustrate how simple, minimal light can boldly illuminate space.
Louis Poulsen
Established in 1874, Danish company Louis Poulsen had some of their best lighting on display, from iconic models to new developments. One might ask, "what's so special about a lighting company established over 145 years ago?" Walking along the curved walls of the pavilion, the answer becomes obvious. When it comes to lighting, it takes both skill and a deep understanding of the craft to create products that makes you admire the design, and at the same time feel comfortable and delight in the atmosphere it creates. The classic PH5 pendant, which this year was presented in new colorful finishes, undoubtedly reflects the philosophy of the company: function, ambience and comfort.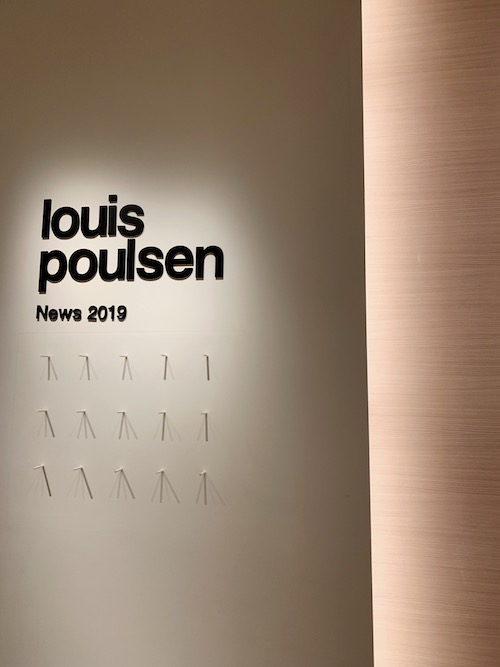 Kinetura
My new lighting discovery is a Belgian lighting studio Kinetura, which specializes in metamorphic lighting objects that combine modulation with physical transformation. The company first presented their metamorphic lights at Euroluce in 2015. Tokyo is probably my favorite model. When the fixture is in the closed position, all that you see is a thin circular line. When the light turns on the circle slowly retreats inside to reveal the light. Tokyo can be seamlessly integrated into walls or ceilings, or used to create a unique composition by combining different sizes.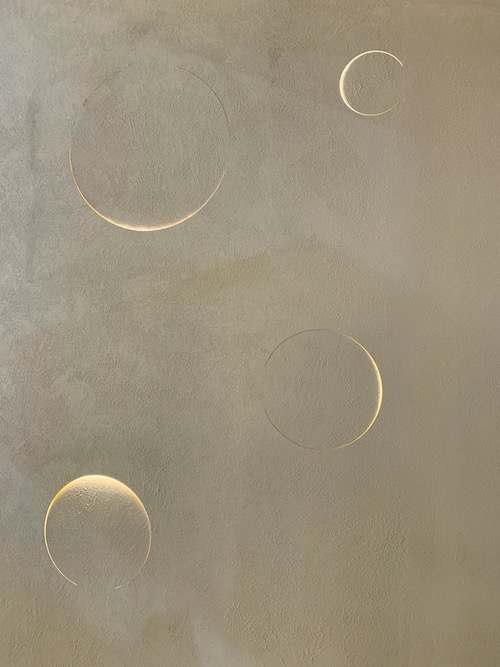 Flos
Italian company Flos is recognized as a world-leading lighting company. With their tracking magnet, Michael Anastassiades' Coordinates system and new WireLine by Formafantasma, Flos masterfully plays with space and boldly questions the very essence of lighting.
Preciosa
"Preciosa lighting brings joy, life and light to Milan" reads the company's website, and I couldn't agree more. Carousel of light by Preciosa is an amazing installation, with its rotating "dome" of lights. As you approach, it lights up – and fades away as you do. This installation definitely challenges your conception of what lighting is and could be…