Entry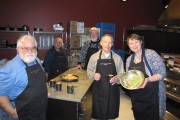 by Rebecca Firestone with Mark English AIA | Work/News
"There's a growing awareness at national level that small-firm architects are more than just residential. We're valuable to the profession."
– Chyanne Husar, architect, 2018 SFx Chair
---
When Mark English first talked to me about his recent trip to Louisville, Kentucky, it was in the context of Monogram, GE's brand for high-end consumer appliances. Apparently, the AIA's Small Firm Exchange had their annual meeting out there amongst the custom refrigerators.
I was puzzled. Why would Monogram bother to bring out 22 architects from all over the country for a 4-day, all-expenses paid jaunt? And why were the architects so stoked about spending a week away from their offices on company-sponsored factory tours?
Support for Small Firms
Turns out that it was the AIA-SFx group that was the real news. It was created 7 years ago as a way for architects in smaller firms, which are actually the majority of firms according to the American Institute of Architects, to have their voices heard at a national level. Mark English currently serves as the AIA-SFx Representative for the State of California.
Chyanne Husar, the current chair, explained how Monogram's sponsorship had saved the AIA-SFx over $30,000 and had resulted in both education and team-building. "We are exceedingly grateful to Monogram. We saved that budget for other working groups."
Husar elaborated. "Our more typical annual meeting is a lecture, followed by working group breakouts, and then you fly back home. This time, we could engage and mingle outside of our working groups, cross-pollinate ideas, and respect views of different regions."
Monogram's Role
Valinda Wagner, manager of the Monogram Experience Center, explained how the Center actually works. "For 42 weeks of the year we hold Monogram training sessions. They're small classes, 24 people or less, with master chefs. They cook all their meals on Monogram appliances. People do everything except sleep here."
"We do these classes for anyone who's an influencer for Monogram: appliance salespeople, architects, builders, designers, and chefs. The target customer audience for the Monogram brand are private homeowners in the top 5% income bracket, a very discerning clientele."
"The architects learn how to specify customized Monogram appliances. They learn about options for hookups, cutouts, and other construction-related details. We're also certified so that architects can get Continuing Educational Units."
"Architects help us to look at whole-house design trends. We tend to focus on specific areas, like the kitchen. But architects think about connectivity, user interfaces."
The architects spoke with numerous representatives from Monograms' industrial design group: exploring new ideas, offering feedback, and considering possibilities for future product development. For products that take 2-3 years to bring to market, with an anticipated lifespan of 5 years, getting it right is critical to success. Factory tours help people to see the quality, and the thinking, behind the Monogram products – which are all made in America.
Team-Building
The immersion experience promotes camaraderie in numerous ways. First, you're away from home, away from ordinary concerns, with a new group of people, for most of the day. The in-person nature of it, the experiential nature, the sharing of both ideas and food all promote human bonding on a deeper level.
"It's like summer camp," said Wagner. "Everyone goes home, knowing they can call on us at any time, and get an engineer response. Our campus is 900 acres. We are approachable and proud of the work we do. It's refreshing. Made in America, we're proud of that. You can show your mom what you do, or go into an appliance showroom and say, 'I made that'."
The Meaning of Home
"What does 'home' mean to you?" has been one of Mark English's favorite questions for a while. Valinda Wagner had an interesting take, based on her role with Monogram.
"The kitchen is where you take care of your family. Appliances are part of that journey towards taking care of your family. Where they are nourished. We like to say that we're making memories. For our group, home is the heart. It's where you bake, cook, and take care of people."
Michael LeJong, AIA-SFx Representative for the Gulf States Region: "To me, home is more than the space you live in. It's about a feeling of comfort, security and love. In my small community of 10,000 (Greenwood, AR) we have a city tagline, 'feels like home'. Home is about a quality of life, the people you care about, and the pride you feel for your community."
Mark English liked the lighting and interior detailing of the Monogram appliances. "There's no plastic parts. All the shelves are glass, and the LED backlighting makes it easier to see what's inside." Image courtesy Monogram
Making Better Recommendations
Several of the architect participants emphasized the opportunity to use the equipment, the kitchen ranges, ovens, and other appliances, as one of the major benefits. This helped them make more informed recommendations to their own design clients, who are becoming more practical and more interested in kitchens they can use, rather than just for show.
Michael LeJong : "I was familiar with many of the GE line including Monogram prior to our visit to the Monogram Experience but what I was not aware of were the many reasons why this line is so important to GE. It's all about the user interaction and elevating the quality of the equipment so that sophisticated cooking is made simple for each person regardless of their experience level."
The Competitor Lab
Several participants remarked on Monogram's "Competitor Lab" which has competing products so that classes can do a real apples-to-apples comparison. Classes don't cook there but they can see other brands. Valinda Wagner explained its purpose. "We don't bash. We just want them to see what the differences are."
"Helping people specify the right appliances for their clients' needs may, at times, mean specifying a competitor product, if it's something that Monogram doesn't currently offer."
Design Trends
Architect Mel Price, past AIA-SFx Chair, mentioned an interesting design trend: downsizing. "My friends in their mid-30s are choosing smaller homes and investing more in appliances finishes that will last decades. They're staying in their homes longer. They want to store less stuff, but for what they do have, they want their stuff to last, and not end up in a landfill. They're not so worried bout home resale value. They'd rather save money and travel, see the world."
Price also noted that the general public is better informed about design. "If it's well-done, you need less of it. People want 'that feeling of quality' – a feeling of weight, sturdiness, a door that closes cleanly, and fits with precision. Sometimes older folks are downsizing and they want smaller appliances – half-size refrigerators."
Bill Peck, past AIA-SFx Practice Workgroup Lead, mentioned what is, to architects, a hopeful trend: "We're seeing more interest in Modernism, particularly Mid-Century Modern, and away from the rustic styles that had predominated for the last few years."
Peck also noted that people are using their kitchens more. "It's not just a show place. They're interested in how the equipment works. They want it to look good and also be usable."
Small Firms, Elevating the Profession
Why are you involved with the AIA Small Firm Exchange? I asked the participants.
Gary Warner, AIA-SFx Central States Regional Representative: "We can influence our profession."
Chyanne Husar: "On a national level, we can use our experience to help other firms without local resources. We've created a regional network of people who understand the resources of their region. These people can take these concerns and bring up to National."
And what are the concerns of small firms, that AIA-National needs to know? Husar cited costs, which large corporate offices can absorb far more easily than smaller firms. "They're charging too much for contract documents. We're also advocating with the various CAD software companies like AutoCAD and Revit to get group license discounts so we don't get priced out."
Various working groups help with leadership development, a business development template (still in the works), and advocacy at state and local levels in areas such as lien rights.
Are you making a dent at the AIA? I asked Hussar. "There's a growing awareness at national level that small-firm architects are more than just residential. We're valuable to the profession."