Entry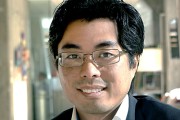 by Rebecca Firestone with Mark English AIA | Interviews
"We are at a moment of inflection where critical decisions are required for the Bay Area. 'Home' to me is more than just a dwelling; it's where I feel as a citizen that I have responsibilities and opportunities to help shape it into a place that matters."
---
Riki Nishimura, Director of Urban Strategies at Gensler, will be a panelist at the upcoming AIASF Housing Forum, sponsored by the AIA in San Francisco, to be held March 24, 2017 at the AIA-SF offices in downtown San Francisco.
What are your hopes for the symposium? Why are you here?
The symposium is a great platform to continue the ongoing discussion on critical issues that have tremendous life-cycle impacts on the health of people living in the Bay Area. One of my interests as an architect is repairing cities from the perspective of critical problem-solving. If we are advocating change at the scale of cities, we need to have design and policy conversations about the opportunities, constraints, and challenges that we face in cities. Housing is one interconnected piece of a complex multi-dimensional city puzzle which is only solvable if we constantly attempt to tackle the equation.
Do you think there's a Bay Area housing crisis?
"Crisis" may not be the right word to describe our current condition on housing in the Bay Area, but we are at a moment of inflection where necessary critical decisions are required for the Bay Area. We must set a clear direction to remain globally competitive, sustainable and future proof and housing is central to the equation.
Is gentrification a good thing? Bad thing?
One of the great things about cities is diversity and the socio-economic mixing that occurs in the urban environment. That sense of urbanity is sometimes lost with gentrification and in some cases could be anti-urban, resulting in a single dimensional sense of uniformness. However, with that said, there are examples of global cities where gentrification has been successful and also acted as a regeneration catalyst for adjacent districts and neighborhoods.
What does "home" mean to you?
These days people are more transient than ever, and I have my fair share of places that I would classify as "home." I identify "home" as a place where when you close your eyes you can recall all the fond memories and experiences with colleagues, friends, and family. "Home" to me is more than just a dwelling; it's where I feel as a citizen that I have responsibilities and opportunities to help shape it into a place that matters and is meaningful for the collective. My home is currently San Francisco and Oakland.
What role do you envision for tech companies regarding Bay Area housing, both responsibilities and opportunities?
Tech company innovations have a tremendous influence on the forward thinking of our cities and can trigger significant movements to embrace change. There is hyper-growth at tech firms, and the sheer volume of employees/visitors they attract to fulfill their needs can cause bottlenecks: in infrastructure, the supply of goods and services, and tipping the scale of housing supply and demand. We must all collaborate equally to solve this complex algorithm and design with tech can play a tremendous role in the dialog.