Entry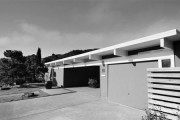 by Rebecca Firestone | Interviews
When he first started building, real estate developer Joseph Eichler probably had no idea that his homes would turn into prized collectors' pieces. His radical contribution to the Mid-Century Modern movement was to strip it down and make it affordable – and, to sell his homes to anyone who wanted to buy one. This made him unique, because back in the 1940s, racial housing discrimination was still widely practiced. At the same time, Eichler employed a series of talented architects to create beautiful and well-thought-out designs with features such as radiant heating that were not widely used at the time. John Klopf of Klopf Architecture shared his insights and experience with renovating Eichler homes. "We approach Eichler remodels and additions with a respect for the language of the homes, but not a strict preservationist perspective."
---
When he first started building, real estate developer Joseph Eichler probably had no idea that his homes would turn into prized collectors' pieces. His radical contribution to the Mid-Century Modern movement was to strip it down and make it affordable – and, to sell his homes to anyone who wanted to buy one. This made him unique, because back in the 1940s, racial housing discrimination was still widely practiced. At the same time, Eichler employed a series of talented architects to create beautiful and well-thought-out designs with features such as radiant heating that were not widely used at the time.
Today, Eichlers are still fairly common, and highly appreciated among owners and architects alike. Because they share some common features of both design and construction, these homes are best modified with the aid of knowledgeable architects and contractors in order to preserve their charm and authenticity.
John Klopf of Klopf Architecture talks about the ins and outs of renovating or modifying Eichler homes. "We approach Eichler remodels and additions with a respect for the language of the homes, but not a strict preservationist perspective," says Klopf. "While the homes are similar or even exactly the same in many aspects, each model is different, each neighborhood is different, and each homeowner is different. Therefore each project is, and should be, different."
Nonetheless, Klopf suggests some guiding principles.
Simplicity Equals Beauty
When working with a minimal palette, it's really true that less is more. For instance, the typical glass walls are no more than 4 x 4 posts holding up 4 x beams with glass set in between them. Windows that run parallel to beams typically sit directly below an exposed beam.
The structure is always visible. Trims are hardly used. "It's really what you see is what you get," says Klopf. "You can see the roof, and the 4 x 4 posts, and that's it. They were very efficient on the use of materials, to the point of being minimal. It's like saying, 'Here's the structure. Now, let's fill it in with glass.'"
How well does that hold up in an earthquake?
"Structurally, it's not really as strong as it needs to be, so eventually, people had to get away from that. The only reason these homes haven't all fallen down is first of all, luck, and second, there's not much weight on top. It's the Japanese method of surviving earthquakes – build a flexible, light wood structure."
Additions and remodels should adhere to this strategy in concept, albeit with more modern materials and construction methods.
Alignment and Modular Bays
The homes are really just squares, and as long as the home is expanded along the same grid, the resulting design should have the same feel as the original. Working off the post and beam grid gave the architects a basic premise that ended up with some hundreds of different floor plans.
Rooms and walls are all composed according to the beam bay, which served as a way to scale the spaces. For example, most of the time a standard bedroom would be 2 beam bays wide, while a typical master bedroom would 3 beam bays wide. Eichler homes tended to give more priority to public spaces, because people lived less of their lives in individual space; so a typical living room or common area might be 4 to 5 beam bays wide.
The very first Eichlers were not designed by architects, notes Klopf. "Things don't line up; they're not as well-thought-out." Some of the older Eichlers had beams bearing on top of windows and also returns over windows perpendicular to the beam bays. That was discontinued very early on in the history.
Inside-Outside Living
Whether they have an atrium or not, the openness to nature is always noticeable in an Eichler. The architects were clever: they provided openness within the private yards and atria, while at the same time creating privacy on the street side using fences, walls, and solid panel entry doors.
In addition to the floor plan and walls of glass, overhanging eaves further enhance the connection to nature. In many cases, they block out higher sun angles, thus preventing over-heating in the summer, and provide a usable outdoor pathway or area in a light rain.
These features are some of the reasons why these old homes, even with their "quick and dirty" construction, are still standing today.
Practical Pointers For Eichler Remodels
When it's time for construction, both architects and contractors should be aware of some best construction practices that will bring the best out of an Eichler home.
New Utilities
Concrete slabs and the attic-less roof/ceiling make running any utilities and alternate heat sources tricky. One can't usually cut into the slab because that is where the radiant heat pipes run (fixing those pipes is possible but that is better simply avoided). Therefore new utilities must usually be run on the roof, then delivered down through walls to the appropriate spaces. Kitchen islands are a particular challenge, so often a vertical element will be necessary unless some existing plumbing and electrical connections from the original kitchen happen to be in the right place to feed the island.
Eichler homes typically are designed to use radiant heating in concrete floors. If an owner wants to remove the radiant heat and switch to conventional forced air, the ductwork has to go on the roof.
Posts, Beams, and Clerestories
The original Eichlers were built to earlier, less stringent building codes than the ones currently in effect. Nowadays, you can't build an entire wall of glass anymore; today's codes require that walls in wood frame houses include a shear panel extending from the foundation to the roof, for lateral strength. So, how can we replicate the original look of posts/beams with continuous clerestory windows when that's no longer allowed? "We have our tricks," says Klopf.
Good: A steel frame can make all your problems go away, and gives a very clean appearance, but it's very costly.
Better: A little visible hardware like post caps saves a lot of money and allows people to open their houses more. The hardware keeps the beam from jumping off the post during an earthquake or other lateral stress. The original builders would use rebar inside the post to attach it to the beam, but that wouldn't be enough to meet today's code.
Best: Another thing that can happen during an earthquake is that the beams can roll from side to side, and roll off the posts. Cutting in flitch plates and hiding structural strapping in the window jambs, along with using solid walls below clerestories to cantilever the shear bracing up to the roof, gives the hardware-free original look for less cost than a steel frame.
Small Kitchen At Entry
A small kitchen right next to the entry was a feature of many homes at the time, but today's open, contemporary lifestyles are more suited to a larger kitchen.
Good: Close off the doorway from the kitchen to the entry, and open up the wall between the kitchen and the living room or dining room to get a feeling of more space, as well as a view of the back yard.
Better: Do the same but expand the kitchen to make it easier to use.
Best: Move the kitchen to a new location, preferably with a bigger area than before – this restores a sense of grandeur to the entry.
Heating System Replacement
The radiant floor heating from the original homes is getting old; some systems leak and must be decommissioned or replaced.
Good: Put in radiant baseboard-type heaters either at the baseboard or along the beams.
Better: Lay down a plywood radiant heat system like Warmboard. This preserves the look of no heating and requires only a minimal door under-cut, but limits flooring choices basically to wood or tile, and also has little thermal mass so the benefit of radiant heating is reduced.
Best: lay down a new plastic-pipe radiant system on a thin layer of insulation, then pour new concrete. Depending on the flooring the owner desires, this concrete can be from 1 1/2″ to 2 1/2″ thick, and can result in an exposed concrete slab and better heating performance.
Choosing The Right Contractor
When I asked Klopf which builders he'd recommend, he mentioned that he often did not have control over the homeowner's choice of builder. He mentioned Henry Calvert , Jon Cooke, and  Ron Key. Klopf also notes that the Eichler Network site lists contractors with Eichler experience.
Nonetheless, Klopf says that it is "pretty important" to have the right builder, because otherwise the architect will have to be onsite more often than the standard weekly site visit. "Questions arise, and you don't want the contractor making those decisions by themselves. For example, a contractor might be installing a new concrete piece and will just cut right through the slab floor, forgetting about the radiant heat."
"There's an order in which to do things. Normally, you'd finish the roofing first, get it watertight, and then do the electric. However, with Eichlers, you'll end up having to run the utilities on top of the roof."
He had a few suggested questions that homeowners (or architects) might ask a prospective builder in order to evaluate them:
If you have to cut into the floor, how will you avoid damaging the radiant floor heating system?
For a new doorway, how is the drywall going to end? A typical remodel is to strip off the original wood paneling and use drywall instead. The wood paneling might be 1/4″ thick and it just disappears into the door. Drywall is usually 1/2″ thick. A contractor might want to put a regular door casing and "sometimes that's OK." At other times, you can use a metal J-trim.
If you are replacing a 6′ by 10′ window pane, what is the procedure for taking out the glass, insulating it, and waterproofing it? One answer might be to hire the right subcontractor. A fuller answer is to take off the exterior wood window stops, remove the window (which usually breaks), clean out the joint, install a modern waterproofing product like Bituthene, put in new insulated glass, and finish with silicone sealant.
What happens when you take out a wall, thinking there was a beam behind it, and then there isn't? There are two situations where this can happen. The first is that you think there's a beam and there isn't, and the second is that there is a discontinuous beam that stops and starts. At this point, the owner or architect has a choice. How committed are you to removing that wall? Are you prepared to replace that beam as part of your work? If not, can you use hardware to tie the beams together or put a post there? Of course, that post will align with the beam, but it won't align across the grid in the other direction.
What do you do when you have to add a wood ceiling back in? In the original Eichlers, the ceilings used an 8″ v-groove type of paneling. The question is, how do you line up the grooves in the new portions and the older portions of the ceiling? The current standard for this type of paneling is 7.25″ rather than the original 8″. When lining the new portions end to end against the old, custom-milled wood may be necessary, although for insertions that line up parallel with an existing wood ceiling, you might not notice the difference.
Choosing The Right Architect
Klopf also suggested a few questions that homeowners can ask a potential architect.
What's your approach for dealing with a Mid-Century Modern house? Some architects might take a very strict preservationist approach, meaning the overarching goal is to restore the home to its original condition. Another response might be an architect who doesn't care for the Eichler style (hint: don't use that architect for a Mid-Century Modern project).  "Our position is to have a respect for the language, but we don't see it purely from a historic preservation perspective," says Klopf.
What is your position regarding privacy versus openness to nature? Actually, this is a good question for architects to ask their clients as well, but in this case, the architect should be able to discuss ways to achieve both and cite some examples.
How do you make a wall of glass in a wood frame house without a shear panel? Two ways are to keep a part that's not glass, or to use metal cross bracing. However, the cross bracing is visible, it's not really part of the Eichler look, and it may be too industrial for some owners' taste.
If you have an Eichler without a radiant floor system, how do you keep ducts from showing on the roof? You can use a low-profile duct system. You can also use a low/high roof join to advantage by creating a false attic over the bathroom. People expect to see a drywall ceiling in a bathroom, and they won't be surprised to see a wood ceiling in the bedroom that's 2 feet higher. Or, you can install a radiant baseboard or floor system.
Finally, Klopf stressed that as for any other design project, the owners should choose an architect whose work resonates with their own sensibilities. "At the end of the day, it's your house, and you're going to be living in it. If your architect shares your aesthetic, you'll enjoy living in the house."