Entry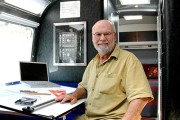 by Rebecca Firestone with Mark English AIA | Interviews
"Home is the nest we create for ourselves as a base for living. It provides us with safety and security – making a conscious and sub-conscious statement to ourselves and our community about our personal values… One is owned by one's possessions when the acquisition, display, storage, and maintenance of possessions falls out of alignment with one's self-image and life purpose." (Photo: David Ludwig)
---
David Ludwig is an entire portfolio of talents all rolled into one: architect, fine artist, silk painter, musician, trained ballet dancer, housing advocate, horticulturist, general contractor, cyclist, father of four adult children. In the past 10 years, he downsized his life dramatically, and now lives in a small Airstream trailer in Greenbrae, north of San Francisco.
The Tiny House movement isn't totally new, although the last 4-5 years may have seen an explosion of interest, as Bay Area housing prices skyrocket yet again. The basic premise is, you don't need all that living space if you arrange your life correctly. You can save money, reduce your environmental footprint, own your own home, even transport it, and invest more in the surroundings outside the house itself – if you can downsize and prioritize what is most important in your life.
What is a Tiny House? Roughly defined, it's a dwelling under 200 square feet. Some may be as small as 85 SF.
On David Ludwig's "Tiny House Solutions" Facebook page, Ludwig has asserted the following:
AirBNB is destroying the affordable housing market in Marin by displacing low-wage workers and turning coastal areas into ghost towns populated only by weekenders.
Access to affordable housing should be a basic right, not a privilege. ["Access to" does not mean "provided for free by someone else", any more than "pursuit of life, liberty, and happiness" guarantees that you'll find it.]
Legal barriers created by governing bodies and local bureaucracies have been intentionally established to specifically deny legitimacy to Tiny Houses as a solution to affordable housing needs.
Criminalization of Tiny Houses constitutes a form of housing discrimination, by banning living arrangements such as Tiny Houses. For example, national rules set by the Department of Housing and Urban Development prohibit living in an RV. This criminalizes everyone who can't afford to live in conventional housing.
Legitimizing Tiny Houses does not mean free-for all. Ludwig strongly advocates building them to code for health and safety reasons, and so they are insurable.
Mobility itself should not be not be banned by code or legal precedent or confused with vagrancy. You can put Tiny Houses on wheels for towing and then transfer them onto a foundation.
Downsizing means you are no longer "owned" by your possessions.
We met in his Airstream and used it as a teaching case for how efficient living can be beautiful, serene, and orderly. It's in a smallish trailer park with at least a few trees and lots that have low fences to provide some visual privacy without isolating anyone from their neighbors. Ludwig has made a tiny strip of garden all the way around the Airstream, with potted plants carefully placed up on shelves along the fence so they're visible through the windows. There are plenty of windows, thoughtfully placed (much better than a traditional RV). There's still room for fun and games, sports equipment, dance costumes, even in 100 square feet of indoor living space.
Ludwig is one of the panelists for Architecture in the City's lecture Titled "From City Project to Vibrant Neighborhood" on September 22, 2016. We wanted to ask him about Tiny House applications for urban environments, and asked some of the same questions as we asked other panelists: What does "home" mean to you? What would the Bay Area look like if you could wave a magic wand and transform it to make your most heartfelt wishes come true?
What Does "Home" Mean to You?
David Ludwig: Home is the nest we create for ourselves as a base for living. It provides us with safety and security – making a conscious and sub-conscious statement to ourselves and our community about our personal values and what we have to share. This nest also extends to the surrounding property and community.
Tiny Homes and RVs
Tiny Houses can be either self-built or manufactured. The experience of creation is different with each type. A self-built or constructed Tiny House uses traditional construction techniques. David Ludwig's Airstream is, by contrast, a commercially built product, and very beautifully designed by architect Christopher Deam. It seemed somewhat in the spirit of the Eichler homes: affordable, egalitarian, but well-designed.
Ludwig's web site has a page devoted to the Airstream lifestyle.
Time and Cost to Build
According to Ludwig, a good quality Tiny Home costs around $60K to build. This is actually less than his Airstream, which cost $100K (still better than a studio-sized condo South of Market). If you buy a Tiny House from one of the companies that offers them for sale, it might take 3 weeks to build one in a factory. Self-built Tiny Houses may depend on the skill and experience of the owner – an experienced general contractor could build one in 3-4 months, but a first-time builder should allow more like a year.
On Being Owned By Possessions
David Ludwig: One is owned by one's possessions when the acquisition, display, storage, and maintenance of possessions falls out of alignment with one's self-image and life purpose. The challenge is to step outside of our own cultural and family expectations and freely choose our own relationship to our possessions. The notion of "possessions" is really a metaphor for many intangible aspects of our personal ego and identity. Family can be a possession. So can home, relationships, work, career, beliefs, goals, even our physical appearance.
Ludwig explained that it can take awhile to downsize enough to live in a Tiny House. At first it seems impossible. At the beginning, Ludwig went through successive purges of possessions in a gradual process.
The Life-Changing Magic of Tidying Up
Ludwig's Airstream, which he has named "Arabesque", was very neat and tidy, very attractive. His model, which cost $100k (more than a Tiny House), is architect-designed and carefully crafted out of thoughtfully chosen materials. It's mostly solar powered, too.
David Ludwig: I haven't read the book of that same name, but as a residential architect I am often charged with "tidying up" my client's lives. I see clutter, or chaos, in one's personal environment as an expression of chaos within one's inner mental landscape.
The Western concept of "tidiness" can easily be taken too far. I love the story of the Zen master who asks his student to clean the garden. After repeated attempts at a perfect cleanup are rejected by the master, the master finally steps over to a nearby tree and gives it a gentle shake. Seven leaves fall into the tidy space and now the garden is perfect.
As an architect, I call this process "breaking the set". Clients' dreams and design preferences often dictate too complete an adherence to the perfection of a certain "look" which is not inviting or friendly. I try to introduce an intentional surprise to break the container of perfection.
Tiny House Villages
There are different scenarios for the use of Tiny Houses. One is parking one in your own backyard and using it as an accessory dwelling unit. Another, proposed by Ludwig and others, is for a small group of friends to pool their funds, incorporate, and buy a parcel of land where they can all live in their Tiny Houses as part of a larger garden-rich housing compound. I asked how the community should structure itself for smooth and harmonious operation.
David Ludwig: Each community defines its own list of shared values and creates an agreement about honoring and promoting those values. Two possible models are consensus and an alternative that I call "benevolent dictatorship". Consensus requires a huge investment of time and energy to arrive at the essential decisions, and is often self-defeating because the players run out of energy. The alternative is a sensitive leadership that is willing to delegate responsibility and respond to concerns in a more streamlined way.
Density
David Ludwig: There is a community critical mass, but I don't know what it is. My guess is between 5-20 Tiny Houses. Density is another question. Tiny House Villages resemble trailer parks, and many of the negative associations that are projected onto trailer parks have to do with density. My guess on a good density would be between 7-15 Tiny Houses per acre of land.
Urban Applications for Tiny Houses
David Ludwig: Urban placement of Tiny Houses falls into two distinct models. Urban infill, or placing an individual Tiny House behind each single-family house, or Tiny House Villages. It's hard to create enough parking, unless we can encourage homeowners to provide Tiny House parking. The urban Tiny House village alternative would explore the development of land parcels that are considered too small for conventional development. You could also work with parcels as a temporary space during the approval process for a larger development.
Why Go to a Tiny House?
David Ludwig: Common reasons include affordability, environmental friendliness, space efficiency, mobility, making a personal value statement to the world. Other less common reasons include self-building a Tiny House as a challenging personal project, establishing a sense of ownership, reducing consumption, and refocusing on one's inner values. Most Tiny House owners want to escape monthly payments, so rentals seem like a more limited market.
What Does "Affordable Housing" Really Mean?
David Ludwig: There's a relationship between a living wage and housing affordability. I advocate for the replacement of the "minimum wage" with a "living wage" that is set regionally based on housing, food, medical, transportation, education, and child-care costs. I further advocate that all business that do not pay a true living wage be taxed to compensate for the public services that their underpaid employees require.
The American Dream
The American Dream is tied up with the model of a nuclear family: two parents, one provider and one stay-at-home child-rearer, 2.2 kids, single family detached suburban home, yard, 2-car garage, maybe a dog. (For an interesting philosophical rebuttal to this, see Ludwig's web page on Lodge Life – it's not about Tiny Houses but it does represent a radical departure from the "I've got mine" mentality.)
David Ludwig: Business interests are mining the concept of "family" and "family values" for profit, in order to foment a feeling of dissatisfaction that in turn generates demand [for their product]. The American Dream itself is under attack from the same market forces, and the Tiny House Movement is one response to these pressures. Some families are realizing that The American Dream is no longer achievable and are opting out of the game.
Code Compliance and Transport
Because Tiny Houses are transportable, they sometimes fall under dual codes: those for wheeled vehicles such as RVs, and those for constructed buildings.
David Ludwig: Tiny Houses were built on trailers under the mistaken belief that the builders could freely create "outside the code". In fact, they are only changing codes, moving from the Universal Building Code (UBC) to ANSI.
Most Tiny Houses are built on an 8 foot wide trailer, plus allowances for overhangs to the DMV 8'6″ street width limit [for hauling manufactured homes]. However, given that most Tiny Houses will only move infrequently, a wider trailer could be used and offer much better floor plans. The wide load permits for units under 12 feet wide are easily obtainable from the DMV. My guess is that Tiny House builders imagine that they will be moving several times a year, but will in fact end up only moving once every 2-5 years, if at all.
David Ludwig: Tiny Houses, except for those using Structural Insulated Panels or SIPs, are conventionally wood-framed units and are subject to a lot of dynamic load during transport. This will affect the exterior waterproof membrane at roof and walls – especially at corners – as well as interior membranes such as around the shower. I anticipate that for the small percentage of Tiny Houses that do move often, that the owners perform additional gluing and screwing of these membranes.
Changing Local Municipal Codes to Legitimize Tiny Houses
So, how can cities adapt their building and zoning codes? And which cities are actually doing it? Ludwig outlined a few examples.
The planning department at Fresno, CA rewrote their code to be more friendly to Tiny Houses as urban infill. The planner who aided in this was already a proponent of the Tiny House movement. This code was already by-right (rules-based) rather than discretionary.
One specific code change made in Fresno was granting the right to park a Tiny House on your property, and allowing "tandem parking" to count towards parking space requirements.
Fresno also added a design requirement, that the Tiny House should be compatible in style with the main house. This keeps the neighborhood from looking too much like patchwork. This part of the planning review is discretionary: but the Planning Director does it, rather than a committee or a low-level plan checker.
Codes that impact Tiny Houses have to do with lot sizes, fire setbacks, and parking. Another area is utility hookups: allowing the homeowner to extend utilities from the main house to the Tiny House, off the same main panel, without requiring an additional utility connect fee.
Utility connect fees can be as high as the cost of the Tiny House itself. This is a significant barrier to Tiny Houses as "affordable" or low-cost housing.
Tiny Houses, RV Parks, and Bias
Because Tiny Houses can be put on wheels for transport, they fall under RV statutes. Thus a Tiny House village falls under the same guidelines as RV parks. RV parks in California are governed by one state office, which isn't particularly supportive of Tiny Houses.
There's a deep societal bias against trailer parks. Consider the epithets applied: "eyesore", or references to the residents as impoverished "trailer trash" who sit around all day collecting welfare checks and cooking up meth. The few parks I've been in were a lot more staid than that: one was mainly retirees. David Ludwig's neighbors have a variety of professions: landscaper, for example.
Tiny Houses as Disaster Relief
We explored the question of whether Tiny Houses could work as a healthier alternative to the FEMA trailers deployed after Hurricane Katrina, which allegedly released toxic fumes due to inadvisably sourced materials. The question is whether the Tiny House companies have the capacity to manufacture large numbers of units, where they would be stockpiled for rapid deployment, and connecting up temporary utilities.
Katrina Cottages Felled by NIMBYism
Some people are doing it, though, such as architect Marianne Cusato with proposed Katrina cottages. In 2007 they cost an estimated $80-$100K, and the buyer would supply the land. These appear larger than a strictly-defined Tiny House, but they're intended to replace lost homes, not necessarily for people who want downsized living.
So what happened? People did try to establish Tiny House communities in places like Mississippi. And, after a lot of fanfare and support from Mississippi's then-governor Haley Barbour (who's not normally seen as a paragon of progressive politics), it turned out that people wanted things the way they were before: suburban car culture. These three articles from Treehugger, Lean Urbanism, and Placemakers provide more details.
On or Off Grid?
One choice faced by Tiny House owners is whether to be on or off the grid, and how to handle utility hookups for water, gas, and electricity. Being completely off-grid is more self-reliant, and entirely possible. However, sanitation must be carefully handled. Composting toilets need more attention, and are not for everyone.
Aging In Place
We got onto this topic while discussing lofts. I didn't think about this, but lofts and ladders aren't ADA compliant, and while they're great for maximizing space, they're not viable for people who might be physically frail and can't climb even ordinary stairs.
Making Small Footprints Feel Spacious
David Ludwig: I see the primary elements of a spacious design as being windows, built-in storage, and a well-designed space-use plan with flow and flexibility. Efficient plan elements include:
Use of side entrances rather than end entrances. All architects know that a long skinny space is best entered from the side, because this access leaves the two ends functioning as cul-de-sacs for activities.
Consolidation of storage and bathroom elements into a central location to further free up the ends.
Showing proposed furniture placement on floor plans.
Creation of dual-use spaces by combining walkways and hallways with functional uses.
David Ludwig: A good Tiny House floor plan should consider furniture placement during the design. Don't try to come up with furniture layouts after the fact. You want to lay out your furniture first, and have a good program for living. Think about where you will sit at a desk, where you will eat. Areas like the kitchen table can be dual purpose. All the furnishings in my Airstream were built-in by the designing architect.
Professional Participation
One question I'd had was why Ludwig wasn't actually a member of the American Institute of Architects. Architects don't need to belong in order to be licensed. Licensing is a matter of passing the state exams, similar to lawyers passing the bar. However, almost every other architect I've met with seems to think that participation in professional associations is important for elevating the profession, including mentoring newer architects – and they're all members of the AIA.
[Ludwig did mention participating in a lot of informal peer groups, related to art, design, Tiny House advocacy, and other focused interests.]
David Ludwig: I had several reasons for leaving. The first was cost – during the economic meltdown of 2008, I lost 70% of my projects. I'd requested an alternate dues agreement and was denied. I also felt a lack of involvement, participation, interest in, and access to the organization itself.
I am a fringe person (artist, dancer, musician, philosopher) and I always felt that the AIA was a sort of "gentleman's club" for the upper class and that this 1% of practitioners were working with clientele of the same rarefied socio-economic strata. These "were not my people".
The social meetings were stiff and unrewarding. As a self-declared outsider, I did not feel that I had anything to say to most of the members. I also did not feel that the AIA was interested in my perspective or was offering me any benefits that would add value to my professional life.
Teaching Architecture
I asked Ludwig what he would teach if he suddenly found himself in charge of an entire architectural department at, say, some major university.
David Ludwig: If I were to create an architecture curriculum, I would begin by requiring 5 years of apprenticeship in the construction field: as a rough and finish carpenter, plumber or electrician, or as a contractor's assistant. This hands-on experience with the process of building has been a central element of my career and was not even suggested by my formal education.
I was educated at Cal during the Sea Ranch days under Charles Moore. This was a time of lofty design ideas, and my first projects had that distinct Sea Ranch look. When I first entered the profession, I was a dreamer who brought ideas to my clients. Now, after 45 years of practice, I have seen a complete reversal of this perspective and experience.
My clients now come to me thinking that they know it all because they looked it up on Houzz. But they're still requesting my help in explaining which things they can't have, because they don't want to hear that it will ruin their vision. And, they are much less willing to pay for professional services.
I would then require a combination of psychology and sociology classes, at least as many as the engineering classes, to understand intimate personal relationships and well as motivations and rewards for my clients. I have found interpersonal skills to be every bit as important as technical skills.
Additional Reading
This is a quick list of resources that seem useful for learning more about Tiny Houses and the history of the Tiny House movement.
David Ludwig will be a panelist on a forum September 22, 6-8 as part of the Architecture in the City Festival. Tickets available at archandcity | Lectures