Entry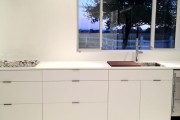 by Mark English, AIA | Editorials
Last summer, I purchased a home in Napa with my partner, Anne Fougeron. Most of the existing style choices were an abomination to our modernist sensibilities.
---
I promise this is no infomercial!
Last summer, I purchased a property with my partner, Anne Fougeron, in Napa. The inside and outside were the product of a 1970s over-zealous homeowner with a tighter budget than he wanted to admit. Parts were completed, others not and most of the style choices were an abomination per our modernist handbook.
These were our rules (or guidelines or trips) for how to spend under $75,000 and still get a great new interior.
1. You will need to spend money. Some costs are unavoidable:
The walls and ceiling were first. We removed the trim and molding and then the walls were floated (this is when you apply a sheet rock mud on top and then sand). We wanted to flatten them out and then paint all the surfaces.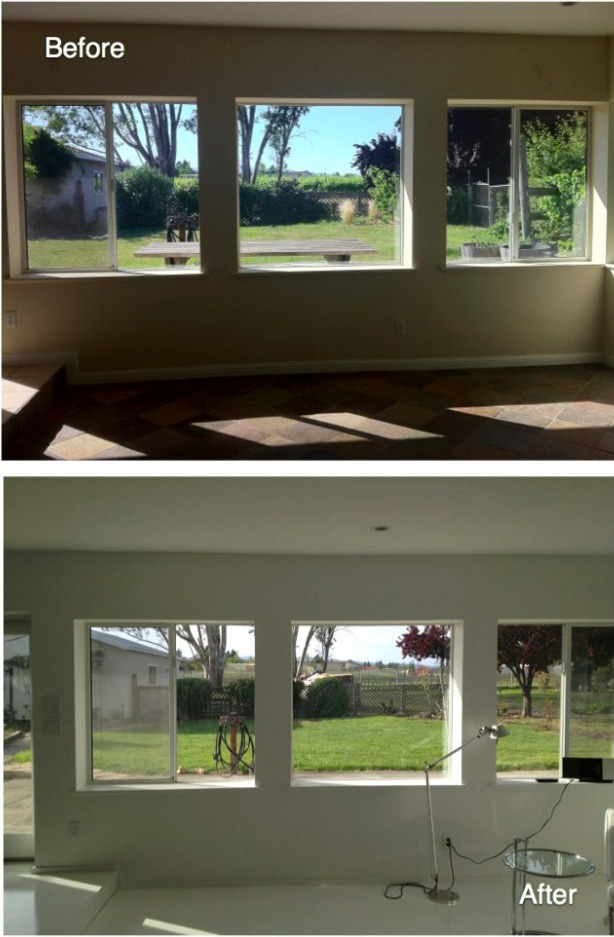 This was a big expense, likely our biggest, but it also covered the most space. The walls had a terrible knock down texture. By re-coating them and then painting them all white (no off white or egg-shell, we went bleach), the house looks very chic. Most importantly, the ceilings–which were only 8'5" tall–now seem much taller.
2. Think cost-effective: Floor models and Ikea.
We especially took this to heart in our bathroom.
In our bathroom, we used IKEA sink and cabinet models. The tall cabinet is flushed out to look built-in.
We used fluorescent lights behind the mirror, providing a very inexpensive way to light the bathroom.

cost: $250 (including installation)
In the kitchen, we grabbed a floor model faucet. It was half price!
3. Use smart, durable materials:
The white floors are Epoxy. The coat costs less than $5 per square foot
Epoxy is usually used in garages but it's a great material and very affordable. And if white doesn't suit your aesthetic, it comes in many other colors. We had the material cover 1.5" concrete. The trick is in a paint application, so you'll need to find someone who knows how to apply the product. Other than how affordable it is, Epoxy is easy to clean and feels really nice under bare feet.
For the shower/tub area, we put cultured marble (from SYNMAR) surround for shower tub area.

cost: $2,500 (including installation)
Culture marble is the poor man's Corian and in pure white it is very nice. Just stay away from the fake marble colors and textured stuff that looks cheap.
4. Don't be label-centric!
The sliding door is Italian hardware, that easily hides the cheap refrigerator and oven. This is essentially the same stuff Boffi uses, but much less than a $10,000 bill from Boffi.
The cook-top is the "Renzo Piano," made by SMEG. Phenomenal cook-top and a steal for the price.
The sink is Kohler stainless steel
5. Lastly, think small to make big impressions:
Since we didn't use the Corian in the bathroom, we used it for some of countertop in the kitchen. No fancy back-splash – we just used a paint with a semi-gloss finish.
Five months into paint experience, the painted backsplash has shown almost no wear.
To save money, we opted out of any upper cabinets over the sink. Instead, we had made one big storage cabinet that now holds the oven, refrigerator and the pantry.

cost: $8,000 (excluding sliding door hardware, which was mentioned in the previous section)