Entry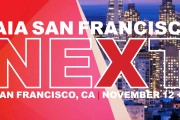 Tuesday, November 03, 2015 | Mark English, AIA | Work/News
Hosted in San Francisco, a city recognized as a leading hub for innovative design leaders and thinkers, AIASF NEXT is a great opportunity to showcase your cutting-edge ideas, projects, and practices that will impact the next generation of the architecture and design profession as well as the future of the built environment. Gathering the best […]
---

Hosted in San Francisco, a city recognized as a leading hub for innovative design leaders and thinkers, AIASF NEXT is a great opportunity to showcase your cutting-edge ideas, projects, and practices that will impact the next generation of the architecture and design profession as well as the future of the built environment. Gathering the best and brightest in AEC for information sharing, conversation, and networking, AIASF NEXT will be the platform to help you generate new clients, relationships, and business.
We will be presenting as part of a panel discussing Social Media on Friday:
November 13, 4:00 – 5:00 pm
SF County Fair Building, 1199 9th Avenue, SF CA 94122
Register at http://www.aiasfnext.org/
MODERATOR: William Menking, The Architect's Newspaper
Kenneth Caldwell, Caldwell Communications
Amanda Walter, Walter Communications
Mark English, Mark English Architects
"The proliferation of social media sites has confounded the once predictable world of architecture and publicity, marketing and business development. But have these much heralded platforms replaced the more traditional routes for public recognition and acclaim for architects and design professionals. This panel of designers and media professionals will discuss how architects should approach these new forms of social engagement. They will discuss how they benefit design practices and even challenge the notion they are anything more than platforms for "saying hello" to family and colleagues. Design marketing expert Kenny Caldwell a self-described "contrarian" on social media for architects will discuss how, why and when architects should engage in these forms of communication. Architect Mark English has developed his own social media strategy and will present his practice as a case study. Finally, Amanda Walter has written the book Social Media in Action on the topic and will present her still evolving thoughts on the subject. The panel will be moderated by William Menking the Editor-In-Chief of The Architect's Newspaper."
CONFIRMED SPEAKERS
Thomas Albright, Salk Institute for Biological Studies
Aviad Almagor, Trimble Navigation
Tomas Alvarez, Beat Rhymes & Life
Lindsay Baker, Building Robotics
Ray Boyle, Our City Network
Scott Bryan, ImagineH2O
David Burney, Pratt Institute, Founder Urban Placemaking + Management
Steven Burns, BQE Software
Kenneth Caldwell, Caldwell Communications
John Chiodo, Gallagher & Associates
Tim Colen, San Francisco Housing Action Coalition
Mallory Cusenbery, RossDrulisCusenbery Architecture
Kearstin Dischinger, SF Planning Department
Mark English, Mark English Architects
Hunter Franks, League of Creative Interventionists
Anisha Gade, Marksearch
Carol Galante, UC Berkeley, Professor of Affordable Housing + Urban Policy
Chris Garvin, Terrapin Bright Green
Ken Graven, Charles M. Salter Associates
Wally Gordon, Deems Lewis McKinley
Robert Hart, Author
Daniel Hernandez, NYC Housing Preservation + Development's Office of Neighborhood Strategies
Lucia Jacobs, UC Berkeley
Mark Jensen, Jensen Architects
Rowan Roderick Jones, ARUP
Karen Kubey, Institute of Public Architecture
Clifton Lemon, Clifton Lemon Associates
Ilana Lipsett, Co-founder and Director, freespace
Amanda Loper, David Baker Architects
Sue Mark, Marksearch
William Menking, The Architect's Newspaper
Mark Miller, MK Think
Richard Pollack, Pollack Consulting
Michael Pyatok, Pyatok Architects
Tracy Quinn, Natural Resources Defense Council
David Scheer, Autodesk
Rosa Sheng, Bohlin Cywinski Jackson
Emma Stewart, Autodesk
Michael Strogoff, Strogoff Consulting
Elizabeth Tippin, Elizabeth Tippin Law
Amanda Walter, Walter Communications
Scott Wiener, Board of Supervisors
Joan Williams, UC Hastings College of the Law
Jennifer Wolch, UC Berkeley, Dean College of Environmental Design
Mike Zuckerman, freespace
For complete information, program schedule, and to register, visit the NEXT website here
---
About the author

Mark English, AIA, Founder and Principal of Mark English Architects, has been working in San Francisco and the Greater Bay Area since 1992. His designs reflect of resourcefulness and efficiency to create high-quality residential design.
---